YouCustomizeIt's "Love It or Return It" Guarantee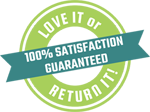 Here at YouCustomizeIt our goal is to make you feel as much joy when you receive your product as when we make it. We love seeing the designs and ideas that our customers create, and we want you to love the custom product you receive.
If you are unhappy with your product, you may return it, or reach out to us and we will make it right. If you are not satisfied with your purchase, you may return your purchase for a replacement or refund within 30 days of receipt.
However, there are some exceptions to our return policy. We will contact you if your order falls outside of our return policy. For example, we do not accept returns on large products/orders such as furniture, rugs and/or bulk orders.
Replacing Defective Products
YouCustomizeIt has a strict quality control process. This means that we check every product before it ships. Sometimes defective products do end up leaving our facility, or a product may be damaged during shipping. If this happens to your order, we will work with you to make your product right.
If there is an issue with your product, please send an email to us describing the issue with the product, or the changes you need made. We also ask that you include photos of the product that you received to help us get a better idea of how to fix it.
Depending on the issue, we will work refund the product or get a replacement put into production as soon as possible. If we are unable to identify any defects with the product based on your pictures, we may require you to return the product to us for inspection before a determination is made.
Returning a Product
If the product that you received does not meet your expectations and we are unable to remake the product to resolve the issue, then a refund is available.
Return for Refund Process
Our return and refund process is outlined below:
Contact us, within 30 days of receiving the shipment, to get instructions for your return
Send the product(s) back to our facility 1
Wait for the product(s) to be delivered back to our facility
Once received, the price of the product(s) will be refunded back to the original payment method 2
1 Unauthorized returns and refused packages may not be eligible for refund.
2 Refund amount does not include any discounts and shipping charges. Customer is responsible for any return shipping costs. If the resulting order after return no longer meets the requirements for a promotional discount/coupon, it will be removed. (eg. free shipping discount may no longer apply)
What Our Customers Have to Say
Im very happy with my purchase! It shipped very quickly and is fantastic quality. I was skeptical based on the price point that it would feel cheap, but its perfect. The printing is crisp and colors rich and vibrant. Furthermore, the customer service is excellent! I accidentally uploaded the wrong image when placing my order. I emailed the correct image to customer service, explaining my mistake and hoping they would see the email and be able to make the change before the item went into production. Within hours, they emailed back saying theyd updated my order with the correct image! It was my mistake and I would have been happy to place a replacement order if needed, but they took care of everything for me.
Reviewer: Jennifer K |

Verified Customer
Talked with Tracy on the phone and she was super sweet to help me place my order! Very very helpful and informative..I would definitely order from this company again!!
Reviewer: Brenda Wright
I love this site and customer service Traci is so sweet and helpful! I am so happy with my ordered products. They were amazing! Printed beautifully the only thing I would change which isn't much is just being able to move your picture to adjust it on the item exactly where you want it rather then it being locked in automatic place. But I love exactly how mine came out! Thank you!
Reviewer: Morgan Richter |

Verified Customer
See All Customer Reviews