Why Customers Love YouCustomizeIt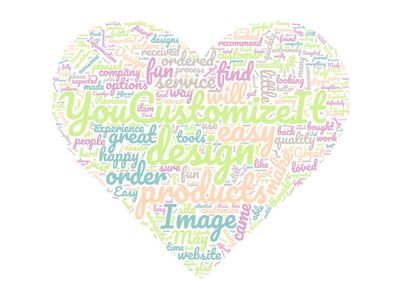 Here at YouCustomizeIt, we value our customers' feedback. We firmly believe that the reviews of our customers reveal the most about our process and products.
Below, you'll find the top ten reasons for why shoppers choose YouCustomizeIt for their custom & personalized gifts, decor and apparel needs.
Reason #1

Fun, Flexible &, Easy to Use Design Studio

Our fun, user-friendly Design Studio empowers you, our customer, to bring your imagination to life by simply browsing, clicking, and tinkering with design elements.

Our flexible design studio enables you to create a product that appears exactly as you imagined it.

Express your creativity by building your own personalization style, using any of our backgrounds, patterns, names, initials, monograms, graphics, and quotes.

this is so great. i've been trying to find a flag for my parents and haven't been able to find one that suits them both. being able to do this is great. and you had perfect things to make one. great selection and easy to switch around to find the best combination

Reviewer: Shannon LedBetter
Reason #2

Design Your Own - Like no Other

Our one-of-a-kind Design Studio allows you to create unique, personalized products!

We provide you with free access to our vast design library, full of thousands of design elements.

When designing, simply select, replace, or remove elements to create a design that matches your imagination.

For your convenience, our backgrounds, patterns, ribbons, fonts, frames, graphics, quotes, and templates can all be accessed easily through the design studio!

I just finished customizing a baby blanket for our soon to be first child and my wife and I couldn't have been more happy with the experience! The customization features felt limitless, and since we both have a tendency to be perfectionists, your website was perfect for our personality. I can't wait to see this beautiful blanket that you guys let us see throughout the design process. We also loved that we could two completely different designs for both the front and back. Thank you for having a website like this!

Reviewer: Brian Chevalier
Reason #3

Upload Your Own Images - Photos, Art, or Designs

Our system welcomes your uploads of many forms, as long as you are the rightful copyright holder of the image.

Photographs - Our system welcomes any photograph of yours. Feel free to upload a photo of your family, friends, or from your favorite vacation spot, and easily add text / personalization to the photographs.

Artwork - Here at YouCustomizeIt, we celebrate the artistic abilities of our customers. We provide you with the ability to upload any image file, as long as you are the rightful copyright holder of the image.

Your Own Designs - So many of our customers are skilled in the use of design software, such as Adobe Illustrator, CorelDraw, and Adobe Photoshop. If you're more comfortable using your own software, simply create your design, consult our file specifications, and upload your own design!

I love the travel mug that I ordered. I had a question about the picture I was uploading and got an immediate response and was able to personalize a picture that I wanted to be put on my travel mug. Not only did they put the picture on the mug but they also gave me a coupon towards my purchase. Personalized items and quick shipping!!! 100% satisfied

Reviewer: Lisa Vega-Marenghi |

Verified Customer
Reason #4

Live Design & Product Previews

Our system provides you with real-time previews, as you design your product. The system updates your preview each time you make a change to fonts, colors, patterns, and more.

This feature enables you to track your design's progress and make quick decisions on combinations of design components, while you build the perfect design.

Our Design Studio also presents you with your design on any of our products, allowing you to see what your product will truly look like, before you even purchase it.

The lanyard was perfect. Very easy to design and make changes and looked just like the image on the screen. Would absolutely recommend using YouCustomizeIt.

Reviewer: Teresa M Hill |

Verified Customer
Reason #5

Get Inspired by Our Design Templates

We understand that many of shoppers prefer to browse through pre-designed products before they begin customizing & personalizing.

We created over 500 design ideas / templates, for our customers to browse, or even personalize, if they so choose.

Each one of our design templates was created entirely using our Design Studio.

I absolutely LOVE your designs for neoprene oven mitts!!! I found the perfect gift for my daughter and also a group of gals with whom I teach Children's Baking Classes. I am so excited to present them with the gifts at the end of January!!! Your website was extremely easy to navigate - especially for a tech challenged person like me! LOL! Thank you for your awesome company!

Reviewer: Jackie Grecco
Reason #6

Decorate Your Entire Space With Ease

When you have finally designed something you absolutely love, you may want the design on more than that one product.

Our Online Design Studio will automatically transpose your design, colors, personalizations, etc. onto our other products.

This unique feature allows you to create a set of matching, or customize coordinating, products with ease!

Such an awesome site! I was on the search for dog collars that had both pineapples and coconuts in toy size for our new puppies. You guys were the only place I could find them, and they were CUTE!! Our puppies names are Pineapple and Coconut. After finding the most perfect collars for them, I found your site to be so user friendly!!! WIN WIN!!! Then your suggestions for other products in that same design led me to pet bowls and a matching pet mat. I can't thank you guys enough and I am looking forward to getting my finished product for our girls soon!!!! Signed, one very happy customer, so far :)

Reviewer: Charlene Fournier
Reason #7

Talk to Real People

We value our customer service quality here at YouCustomizeIt. If you contact our team, either through LiveChat or over the phone, you will never communicate with automated machine.

Instead, you'll always find a member of our dedicated team, who is more than eager to help you.

I couldn't be more pleased. Both Ogie and Tracy were most helpful, fast, efficient, and went "above and beyond." in today's business environment, this experience was truly exceptional! Thanks so much and God bless you all!

Reviewer: STEPHEN SMITH |

Verified Customer

Date: Jan 16, 2019
Reason #8

Love It or Return It Policy

We want to offer a straightforward return policy for our customers' convenience. If the product you receive does not meet your expectations, you may contact our team and return the product to us for a refund or replacement.

I had accidentally selected the wrong size of the rug and had opened the box to see if the design looked as described online. I read an email after that asking NOT to open box. I contacted their customer service by chat and the rep helping me made sure that it got exchanged to the correct size. Thank you Tracie and YouCustomizeIt! Easy returns. Prompt refund.

Reviewer: TK. Angeleri
Reason #9

Fast Ship Times

Since our products are made for you right here in the USA, we're able to process your orders swiftly.

We are proud to ship our orders quickly and hassle free.

Our customers can attest to the speed of our shipping process.

Second time designing/purchasing from here. Great experience both times. Quick shipping also! Will definitely continue to design and purchase from this company!

Reviewer: Angie |

Verified Customer
Reason #10

Quality Products - Made for you in the USA

When you buy from YouCustomizeIt you are buying products that are handmade here in the United States.

Though the materials are globally sourced, the craft is done in by real people all across the USA - from Oregon to Texas to North Carolina and many other states.

Great quality merchandise and came faster than originally expected. Would definitely use this company again and recommend them to others!!

Reviewer: Suzanne Finelli |

Verified Customer