When you buy from YouCustomizeIt you are buying products that are handmade right here, in the United States.
Though the materials are globally sourced, the craft is done by real people all across the USA - from Oregon, to Texas, to North Carolina, and more.
YouCustomizeIt's main office and production facility are in Pearland, Texas; however, our production is done in warehouses all across the United States.
YouCustomizeIt's products are handmade in the states colored in green.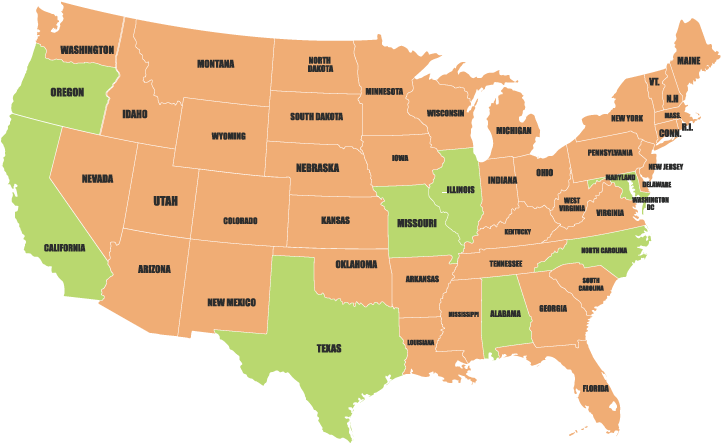 Hand Made for You
Every single custom product on YouCustomizeIt is handmade for you after you design it and place the order.
All the products sold on YouCustomizeIt can be customized & personalized exactly to your specifications, and thus a person has to hand make each individual item and prepare it to be shipped to you.
The process for making the product depends on the product itself. We use several different technologies & methods to craft your product.
These are the general steps to make each custom product:
You place your order
Your digital design file is reviewed by a real person
Your design is "printed" onto the product or material that your product is made from
Your custom product is then cut, sewn and/or assembled as required for that specific product
Your product is checked for quality
Your product is then carefully packed & shipped to you
It arrives at your door!
But why does it have a "Made In China" sticker on it?
In today's global economy, declaring where something is "made" can get somewhat complicated.
The raw materials are made in one country, refined in another, assembled in yet another. And in the custom products business, things get even more complicated as the product is then "printed" with your design.
Rest assured that all our custom products are " printed" and shipped from the United States , however the government sometimes requires that we leave the "Made in China" or "Made in Mexico" sticker because that's where the blank product came from.
Customer Reviews on Product Quality
Great quality merchandise and came faster than originally expected. Would definitely use this company again and recommend them to others!!
Reviewer: Suzanne Finelli |

Verified Customer
We love these glasses!! They look amazing, and are of very high quality! In addition, they came many days early; I wasn't expecting them until the end of March!
Reviewer: Kristi cason |

Verified Customer
Very nice quality and craftsmanship....I will order from this site for future items and gifts...extremely wide variety to match any customizing options..
Reviewer: Cheryl Korman |

Verified Customer
See All Customer Reviews