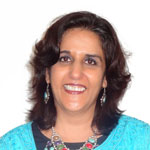 YouCustomizeIt is a family-owned business that started with a dream in 2014. Our founder and owner, Narmin Parpia, always had the life goal of starting her own business. She comes from a family of entrepreneurs. Her mom owned a custom clothing store when she was growing up.
Customers would stop by, select a dress style and fabric, and then her mom would design, cut & sew the dresses for her customers. From an early age, Narmin gained an appreciation for prints, colors, and fabrics.
Even though she grew up in a creative environment, Narmin went the traditional route for a while. She graduated with a degree in chemical engineering and worked in the oil and gas industry for some time. But, in the back of her head, she couldn't stop thinking about her love for fabrics and designs.
This passion evolved into a company where the creative and analytical come together in beautiful harmony.
We have built a design studio that allows you to change every element of your design in real-time until it looks just like you want it. We have hundreds of design ideas and products for you to choose from but don't feel like you have to start out with one of our offerings. You can also upload your own photo or artwork.
We also pride ourselves on our customer service. Unlike some of the major players, you won't experience long wait times with us or an automated system. You talk to real people. Not robots.
At our small company, there's always a member of our dedicated team that's eager to help you.
Reach out to us Monday through Friday from 9 a.m. to 4 p.m. CST by phone at (281) 816-3285 or live chat with us on our website.
Our design studio is open 24 hours a day, 7 days a week, 365 days a year.