If you require assistance with our website, designing a product, or placing an order, you can contact us directly at 281-816-3285 (Monday to Friday 9am to 4pm Central Time)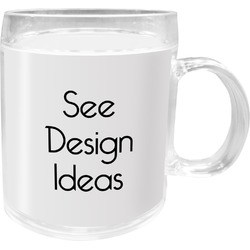 Custom Masculine Acrylic Kids Mug
Product Features:
Customizable: Personalize one of our 110+ starting designs, or design your own.
Generous Capacity: Acrylic kids mugs hold 14 oz. of liquid, perfect for quenching your child's thirst.
Insulated Construction: Keep beverages hot or cold, suitable for a variety of drinks.
Break-resistant & BPA-free: Made from acrylic and BPA-free material, ensuring safety and durability.
Top-Rack Dishwasher Safe: Conveniently clean up after meals with top-rack dishwasher safe design.
About the Acrylic Kids Mug
Our acrylic kids mugs are adorable and your kids will also love them. It will make mealtime more fun and festive.
These acrylic mugs hold 14 oz. and are insulated to keep your beverage hot or cold. They have a clear brim and handle. They are dishwasher safe, BPA free, and made for everyday use.
Care Instructions:
Do not microwave
Dishwasher safe - for Top Rack Only
Product Specifications
Product ID
186677
SKU
acrylic-mug+965833
Brand
YouCustomizeIt
Product Type
Kids Mugs
Print Style
Wrap Around
Product Dimensions
Mug (Approx. 3.5" x 3.5" x 4.5")
Volume Capacity
14 oz.
Material
Acrylic
Plastic
Product Gender
Unisex
Printable Color
Full Color
Production Method
Printed and Machine Cut
Department
Drinkware
Baby + Kids
Design Color
Multicolored
Pattern
Multiple Patterns Available
Design Audience
Everyone
Design Gender
Gender Neutral
Personalization Style
Design Your Own