If you require assistance with our website, designing a product, or placing an order, you can contact us directly at 281-816-3285 (Monday to Friday 9am to 4pm Central Time)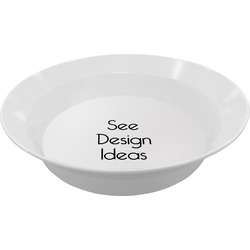 Custom Melamine Bowl

-

12 oz
Product Features:
Customizable: Personalize one of our 525+ starting designs, or design your own.
Resilient Material: Made from break-resistant melamine, ensuring a long-lasting and durable bowl.
Size Variations: Two sizes available: 8 oz. for smaller servings and 12 oz. for hearty meals.
Safety First: The bowls are BPA free, making them safe for both adults and children.
Easy Maintenance: Simple to clean, either hand-wash or dishwasher safe with mild detergent.
Bowl Style
Customizable Design Templates
About the Melamine Bowl
These melamine bowls are the perfect addition to your dinner spread! Ideal for kids and adults alike, these bowls are both fun and functional. Customize them with a name or a treasured design that corresponds with the personalities of your family members!
Our melamine dinnerware are BPA free, break-resistant, and dishwasher safe. Our first model has a more functional, standard look, and can hold up to 8 ounces of liquid. The second version we offer has a tapered edge and can hold up to 12 ounces of liquid. Both bowls display your customization on the base of the bowl's inside, and the exterior of the two models are both white.
To clean your personalized bowl, rinse and scrub with a gentle cleanser. If in need of a deeper clean, place in the dishwasher with a mild detergent. Allow the bowl to properly air dry.
Care Instructions:
For a quick clean, rinse and scrub with a gentle cleanser
Dishwasher safe with mild detergent
Leave to air dry
Product Specifications
Product ID
186678
SKU
mel-bowl+965833
Brand
YouCustomizeIt
Product Type
Bowls
Print Style
Single-Sided
Product Dimensions

(For Selected Option)

12 oz. Bowl (Approx. 6.75" x 6.75" x 1.75")
Volume Capacity

(For Selected Option)

12 oz.
Size

(For Selected Option)

Angle Rim Bowl (12 oz.)
Material
Melamine
Plastic
Product Gender
Unisex
Printable Color
Full Color
Production Method
Sublimation
Department
Baby + Kids
Home + Garden
Design Color
Multicolored
Pattern
Multiple Patterns Available
Design Audience
Everyone
Design Gender
Gender Neutral
Personalization Style
Design Your Own