If you require assistance with our website, designing a product, or placing an order, you can contact us directly at 281-816-3285 (Monday to Friday 9am to 4pm Central Time)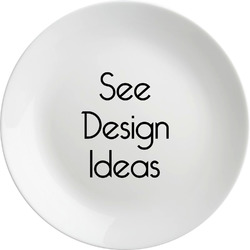 Product Features:
Customizable: Personalize one of our 525+ starting designs, or design your own.
Durable Material: Crafted from break-resistant melamine for long-lasting use and daily durability.
Size Options: Available in two convenient sizes, 8" and 10" in diameter, to suit your needs.
Safe for Use: Plates are BPA free, ensuring a safe dining experience for all family members.
Easy to Clean: Either hand-wash gently or place in the dishwasher with a mild detergent.
Customizable Design Templates
About the Melamine Plate
If you're looking for a way to accent your dinner table with personalized, yet functional, accessories that will survive daily use, our melamine plates are the perfect option for you. Design these custom plates to match the personalities and tastes of your family members and loved ones!
These personalized plates are free of BPA and break resistant, to survive the many drops of daily use. Your customization is displayed across the entire face of the plate, while the back of the plate remains white in color. We offer these plates in two different sizes: 8 inches and 10 inches in diameter.
When washing your melamine dinnerware be sure to rinse and use a gentle cleanser, or place in the dishwasher with a mild detergent. Leave the plates to air dry after cleaning them.
Care Instructions:
For a quick clean, rinse and scrub with a gentle cleanser
Or place in dishwasher with mild detergent
Leave to air dry
Product Specifications
Product ID
412437
SKU
cp-mel-plates+965833
Brand
YouCustomizeIt
Product Type

(Varies By Option)

Lunch / Dinner Plates
Appetizer / Dessert / Salad Plates
Print Style
Single-Sided
Product Dimensions

(Varies By Option)

8" Plate (8" x 8")
10" Plate (10" x 10")
Diameter

(Varies By Option)

8 Inch
10 Inch
Material
Melamine
Plastic
Product Gender
Unisex
Printable Color
Full Color
Production Method
Sublimation
Department
Baby + Kids
Home + Garden
Shape
Round
Design Color
Multicolored
Pattern
Multiple Patterns Available
Design Audience
Everyone
Design Gender
Gender Neutral
Personalization Style
Design Your Own