If you require assistance with our website, designing a product, or placing an order, you can contact us directly at 281-816-3285 (Monday to Friday 9am to 4pm Central Time)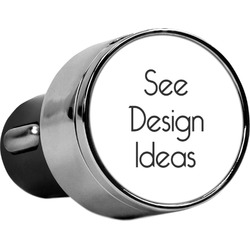 Product Features:
Customizable: Personalize one of our 525+ starting designs, or design your own.
Durable material: Made from silver-plated metal for a sturdy and long-lasting design.
Customizable lid: Personalize the flip-open lid with your own design for a unique touch.
Dual USB ports: Features two USB charging ports for versatile device charging options.
Magnetic closure: Ingrained magnets on the lid and body ensure secure seal and easy access.
Customizable Design Templates
About the USB Car Charger
Incorporate a custom accent to your travels with this USB car charger! Our USB car adapters strike the perfect balance between style and functionality and make such practical gifts for loved ones!
This car charger adapter converts your cars bland cigarette lighter into a decorative, personalized, and operational USB charging port. Made of solid, silver-plated metal, these chargers feature a flip-open lid that both displays your customized design and conceals two USB ports. The metal lid of the USB car charger adapter is 1.5" in diameter and seals due to a small, ingrained magnet on both the charger and its lid. The cigarette lighter insert, itself, is colored black.
To clean the body of this personalized USB car charger, wipe it down with a dry cloth. If the two ports require cleaning, we advise using a can of compressed air.
Care Instructions:
Wipe down with a cloth to clean exterior
Use a can of compressed air to clean the ports
Product Specifications
Product ID
209902
SKU
cp-cr-usb-chrgr+965833
Brand
YouCustomizeIt
Product Type
USB Car Chargers
Print Style
Single-Sided
Product Dimensions
Approx. 3" x 1.5" x 1.5"
Material
Metal
Product Gender
Unisex
Printable Color
Full Color
Production Method
Sublimation
Department
Car + Automotive
Office + Desk
Power Source
12V DC
Design Color
Multicolored
Pattern
Multiple Patterns Available
Design Audience
Everyone
Design Gender
Gender Neutral
Personalization Style
Design Your Own