If you require assistance with our website, designing a product, or placing an order, you can contact us directly at 281-816-3285 (Monday to Friday 9am to 4pm Central Time)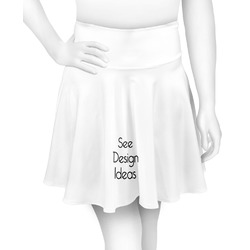 Product Features:
Customizable: Personalize one of our 515+ starting designs, or design your own.
Flexible Waistband: Includes a 4" thick waistband that can be worn high or folded low.
Size Variety: Available in 6 different sizes ranging from XS to 2XL to ensure a perfect fit.
Skater Style: Features a flirty, skater style that flares out and adds a playful touch.
Quality Fabric: Made of 100% Polyester with a silky smooth texture for ultimate comfort.
Customizable Design Templates
About the Skater Skirt
Guarantee yourself a good day by looking gorgeous. Every lady feels more confident if they feel beautiful, so help yourself out with this fashionable skirt! The skater style skirt is the perfect thing to grab a few looks and make yourself feel new.
This skirt is a fun skater style that flares out (especially if you take a twirl in it!). The waist band is about 4" thick to wear as a high wasted skirt, but can easily be folded down to become a low waisted skirt. The band hugs you tight while the rest of the skirt is very flowy. The material is a comfortable, casual material that has a very slight sheen to it. It comes in 6 different sizes ranging from XS to 2XL. This skirt is perfect as a casual skirt, but can be easily dressed up to be a more formal skirt.
In our design center there are all kinds of patterns to choose from! Pick something that is absolutely you. You can even create your own pattern with our pattern maker if you like, or upload your own artwork. The choice is yours.
Product Specifications
Product ID
356291
SKU
cp-sktr-skrt+965833
Brand
YouCustomizeIt
Product Type
Skirts
Print Style
Wrap Around
Product Dimensions

(Varies By Option)

XS Waist x Outseam (25" x 14.5")
S Waist x Outseam (27" x 14.75")
M Waist x Outseam (29" x 15")
L Waist x Outseam (31.5" x 15.25")
XL Waist x Outseam (34.5" x 15.5")
2XL Waist x Outseam (37.5" x 15.75")
Apparel Size

(Varies By Option)

X-Small
Small
Medium
Large
X-Large
2X-Large
Material
Fabric
Fabric Blend
100% Polyester
Fabric Texture
Silky Smooth
Product Gender
Feminine
Printable Color
Full Color
Production Method
Sublimation
Additional Production Details
Printed & Sewn
Department
Apparel + Accessories
Design Color
Multicolored
Pattern
Multiple Patterns Available
Design Audience
Everyone
Design Gender
Gender Neutral
Personalization Style
Design Your Own
5 Stars

Great skirt, and they did a great job fixing a problem with my order
I got the wrong design and size at first; I think they mixed my order up with someone else's. I needed the skirt for a Halloween costume, and they got it to me just in time despite the mixup, and didn't ask me to send back the first one. Thank you!
Reviewer:

Shawn Meyer

|

Verified Customer
Date: Nov 02, 2019
Product: Circuit Board Skater Skirt
See All 1 Review