Design Your Own Personalized Shower Curtains
$69.95+
In Stock
Ships in 7-14 Business Days
(19 Reviews)
100% Woven Polyster; Printed on front; white on the back
12 Sturdy hook holes at top
Care: Machine washable
Vibrant, colorful design
Designs Ready For You To Customize
Looking for More?
Reviews
LOVE IT!
I ordered the Zebra Print and Dot personalized shower curtain with the Cappucino Royale style font, initial R, and ABSOLUTELY love it! It turned out far better than I imagined and Baby - N - Toddler was wonderful to work with! I highly recommend this product and company :) I will be back for more!
Reviewer: Lisa
Looks great!!
It looks great!
Reviewer: Kerri Allen
We loved our shower curtain!
We loved our shower curtain! Thanks so much!!
Reviewer: Brittany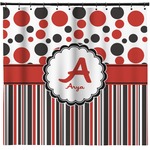 Precious
This is precious! Arrived earlier than estimated. Seller called to verify the name and was very nice. Got this in yesterday and it is perfect. Gift for niece for college. She is going to love it.
Reviewer: Lisa Register
Product: Red & Black Dots & Stripes Shower Curtain (Personalized)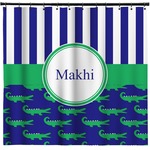 See All 19 Reviews
Product Description
Our custom and personalized shower curtains are a great way to add pizzazz to any bathroom!! Children, teens, and adults will all be delighted by the cute designs, fun patterns, and vibrant colors. Whether it is for an individual, couples, or guest bathroom it is sure to put a smile on anyone's face who sees it.
With our various customization / personalization options you are guaranteed to have a bathroom like no other and once you add the coordinating bath towels and accessories, your bathroom decor will be at a whole new level!!
Our Shower Curtains are available in the following sizes:
Custom Widths can range from 24" Wide to up to 200" Wide
Custom Height can range from 36" High to up to 100" High
Our shower curtains are printed on the front, while the back is white. They are made of 100% woven polyester, are machine washable, and have sturdy slit openings at the top for easy hanging (rings are NOT included).