Design Your Own Personalized Seat Belt Covers (Set of 2)
Product Design Ideas
Sort:
Reviews
Wonderful
Love them
Reviewer: Dina Knupp
Product: Design Your Own Seat Belt Covers (Set of 2) (Personalized)
Love Them!
They are exactly what I was looking for! Once I got the hang of personalizing them I had a lot of fun doing so! I do wish the color was more gold (like it looked on my computer) then yellow but am very happy with it anyway.
Reviewer: Marla O'Steen
Product: Honeycomb Seat Belt Covers (Set of 2) (Personalized)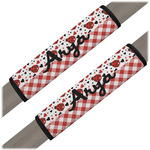 See All 3 Reviews