If you require assistance with our website, designing a product, or placing an order, you can contact us directly at 281-816-3285 (Monday to Friday 9am to 4pm Central Time)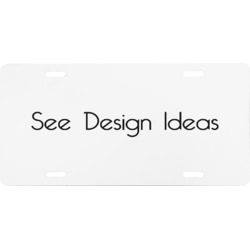 Custom Front License Plate
Product Features:
Customizable: Personalize one of our 525+ starting designs, or design your own.
Durable Material: Made in the USA of durable aluminum, ensuring long-lasting use and quality.
Standard Size: Measuring 12" x 6", these plates fit most license plate frames and are easy to install.
Vibrant Colors: Your creative design is printed in full color, retaining its vibrancy even in harsh sunlight.
Easy Maintenance: Clean with a damp cloth and soap or light detergent, rinse with warm water if needed.
Customizable Design Templates
About the Front License Plate
Add some much needed personality to your cars exterior with our personalized front license plates. Though intended for the front of your car, these decorative license plates can also serve as a unique piece of household decor!
Devised for a straightforward installation, our custom car plates are made right here in the USA of a durable aluminum and feature several mounting holes. When installing, place a screw in each hole, and secure using a screwdriver. At 12 by 6 inches, the plates are a regular size and are standardized to fit most license plate frames. We print your creative design on the face of the plate; the vibrant color will retain, even in harsh sunlight, for up to 2 years. We complete the plates with a glossy finish, to ensure that your custom, front license plate catches the eyes of many.
When cleaning the car plate, we advise that you wipe down its surface with a dampened cloth and soap or light detergent. Rinse with warm water if necessary.
Care Instructions:
Wipe down with warm water and soap or light detergent
Rinse with warm water if necessary
Product Specifications
| | |
| --- | --- |
| Product ID | 186611 |
| SKU | mi-license-plate+965833 |
| Brand | YouCustomizeIt |
| Product Type | License Plates |
| License Plate Type | Regular (12" x 6") |
| Print Style | Single-Sided |
| Product Dimensions | Approx. 12" x 6" |
| Material | Metal |
| Product Gender | Unisex |
| Printable Color | Full Color |
| Production Method | Sublimation |
| Department | Car + Automotive |
| Design Color | Multicolored |
| Pattern | Multiple Patterns Available |
| Design Audience | Everyone |
| Design Gender | Gender Neutral |
| Personalization Style | Design Your Own |