If you require assistance with our website, designing a product, or placing an order, you can contact us directly at 281-816-3285 (Monday to Friday 9am to 4pm Central Time)
Custom Santa Sack - Front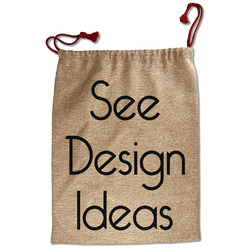 Product Features:
Customizable: Personalize one of our 280+ starting designs, or design your own.
Material: Made from burlap, providing a rustic and natural aesthetic to your holidays.
Capacity: Generously sized at approximately 25" x 19.5" to hold all your gifts.
Secure: Equipped with red accent drawstring ties for secure and stylish closure.
Easy Care: Designed to be machine washable and wrinkle-free for easy maintenance.
Print Style Size
Customizable Design Templates
Product Description
Who said Santa was the only one that could hand out presents? Be the bearer of gifts with your own personalized Santa sack this Christmas! Have everyone gather around the Christmas tree and hand out gifts one by one like Ole St. Nick! You'll have the kids watching you with stars in their eyes with how many presents are stocked into your Santa sack! These personalized Santa bags are for one and for all! They're also great for holding gifts per family so you can fit all gifts in one! Add a name, monogram, quote, or design for each family and let them use them for the holidays, too! The more the merrier!
Our Santa sacks print your design on the burlap material giving it a nice rustic, natural design! The burlap material is also machine washable and wrinkle-free, so feel free to fold and store out Santa bags until the next time you need it! Secure your gifts with our red accent drawstring ties at the top of the sack so the mystery of your gift stays a surprise until Christmas day. We offer two types of printing- one side partial print or double-sided partial printing. Design and personalize your own Santa sack in time for the holidays!
Care Instructions:
Machine wash separately in cold water and on a gentle cycle
Use a mild detergent
Hang and let air dry
Product Specifications
Product ID
477333
SKU
cp-santa-sck-f+965833
Brand
YouCustomizeIt
Product Type
Santa Sacks
Print Style

(For Selected Option)

Single-Sided
Product Dimensions
Approx. 25" x 19.5"
Material
Fabric
Fabric Texture
Burlap
Product Gender
Unisex
Printable Color
Full Color
Production Method
Sublimation
Department
Home + Garden
Party + Celebration Supplies
Design Color
Multicolored
Pattern
Multiple Patterns Available
Design Audience
Everyone
Design Gender
Gender Neutral
Personalization Style
Design Your Own
5 Stars

Amazing quality and design
Looked everywhere for something like this and it is perfect. While the size is still big, the only thing that would make it even better would be an extra large version to fit more gifts in. The quality of the design and print is sharp and couldn't be better. I loved that it was customizable on the front as well as the back. I had two different ideas so I didn't have to choose and was able to have both. It's perfect for law enforcement to hand out gifts to kids or use to gather gifts to pass out to first responders as a thank you for their service. Might get one more for me or a few more for friends.
Reviewer:

Michelle

|

Verified Customer
Date: Dec 09, 2021
Product: Design Your Own Santa Sack
See All 1 Review