If you require assistance with our website, designing a product, or placing an order, you can contact us directly at 281-816-3285 (Monday to Friday 9am to 4pm Central Time)
Custom Ceramic Ball Ornaments - Poinsettia Garland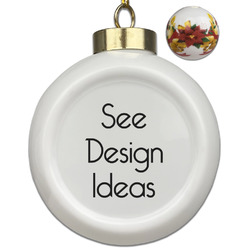 Product Features:
Customizable: Personalize one of our 525+ starting designs, or design your own.
Elegant Styles: Choose between the festive Christmas Tree or Poinsettia Garland design options.
High Quality Material: Crafted from durable ceramic for long-lasting holiday memories.
Perfect Size: The ornament measures approximately 3"H x 2.5"W x 2"D for a noticeable display.
Convenient Hanging: Comes with a gold string accent for easy placement on your Christmas tree.
Customizable Design Templates
Looking for More?
Look for more holiday decor? Check our
Holiday Decor Department
. From hosting olidays dinners with personalized
dinnerware
to staynig cozy and warm indoors with our customizable
Sherpa Blankets
, we have your holiday essentials ready for your creative touch!
Product Description
Tis the season to be jolly! Display precious memories and design them onto our custom Christmas ball ornaments! You can even upload photos for us to print on your personalized Christmas ornaments, a perfect way to welcome your baby's first Christmas! Christmas decorations bring more joy and warmth to holidays when they're personal!
Our Christmas ornaments are a unique ceramic ball shape with a twist as it has a flat face to display your custom design! Select from one of our two design types - Christmas Tree or Poinsettia Garland - to adorn the curved back of your personal design. Each ornament measures 3H x 2.5W x 2D accompanied with a gold string accent for finishing touches to hang on your beautiful Christmas tree!
Product Specifications
Product ID
451882
SKU
cp-ornmnt-rnd2+965833
Brand
YouCustomizeIt
Product Type
Ornaments
Style

(For Selected Option)

Poinsettia Garland
Print Style
Single-Sided
Product Dimensions
Approx. 2" x 2.5" x 3"
Material
Ceramic
Product Gender
Unisex
Printable Color
Full Color
Production Method
Sublimation
Department
Home + Garden
Shape
Ball
Design Color
Multicolored
Pattern
Multiple Patterns Available
Design Audience
Everyone
Design Gender
Gender Neutral
Personalization Style
Design Your Own