If you require assistance with our website, designing a product, or placing an order, you can contact us directly at 281-816-3285 (Monday to Friday 9am to 4pm Central Time)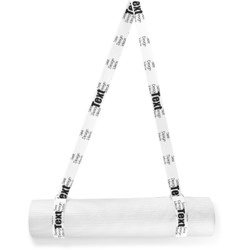 Custom Pattern Yoga Mat Strap
Product Features:
Customizable: Personalize one of our 255+ starting designs, or design your own.
Convenient Carrying: Adjustable strap for effortlessly carrying your yoga mat over your shoulder.
Sturdy Material: Made of durable woven polyester with metal D buckles for secure fastening.
Adjustable Loops: Create two adjustable loops to fit any size yoga mat securely in place.
Personalized Design: Customize a 12" section that repeats along the strap's front and back.
About the Yoga Mat Strap
Carrying all of your yoga gear back and forth to classes can be so frustrating! Your hands are always full and you may even have to take two trips. Make it easier by using an adjustable strap to carry the bulkiest thing of all: your yoga mat.
This yoga mat strap is the perfect way to carry your yoga mat over your shoulder. It is made of a sturdily woven polyester with a metal D buckle on either end. It measures at approximately 60" x 1.5". This gives plenty of room to make two adjustable loops to hold your mat and then sling over your shoulder. Easily slip the strap through both D buckles to make 2 adjustable loops to fit ANY size yoga mat securely.
If your strap ever gets dirty or stained, simply throw in your washer or hand wash with mild detergent. Do not put in dryer, but instead let it air dry.
Customize your strap in our design center! Choose from hundreds of backgrounds and other elements in our library. Pick something that will really make you stand out. You will customize a 12" section of your strap that will be repeated the length of the strap on the front and back.
Product Specifications
| | |
| --- | --- |
| Product ID | 254358 |
| SKU | cp-yg-mt-strp+965833 |
| Brand | YouCustomizeIt |
| Product Type | Yoga Straps |
| Print Style | Double-Sided |
| Product Dimensions | 60" |
| Material | Fabric |
| Fabric Blend | 100% Polyester |
| Fabric Texture | Webbing |
| Product Gender | Feminine |
| Printable Color | Full Color |
| Production Method | Sublimation |
| Additional Production Details | Printed & Sewn |
| Department | Sporting Goods |
| Design Color | Multicolored |
| Pattern | Multiple Patterns Available |
| Design Audience | Everyone |
| Design Gender | Gender Neutral |
| Personalization Style | Design Your Own |
5 Stars

Perfect strap

I wanted a strap with my name in it to easily identify my yoga mat. The item is perfect !
Reviewer:

Heather Armbruster

|

Verified Customer
Date: Mar 15, 2023
Product: Pineapples Yoga Mat Strap (Personalized)
See All 1 Review