If you require assistance with our website, designing a product, or placing an order, you can contact us directly at 281-816-3285 (Monday to Friday 9am to 4pm Central Time)
Custom Vintage Snowflake Ornament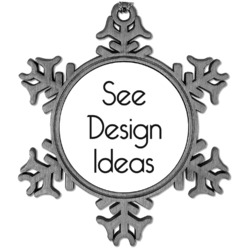 Product Features:
Customizable: Personalize one of our 525+ starting designs, or design your own.
Strong Material: Crafted from durable pewter material, ensuring longevity and timeless appeal.
Unique Shape: Intricate snowflake shape, approximately 3" x 3", perfect for holiday decoration.
Gift Packaging: Comes in a small gift box, ideal for keepsakes and seasonal storage.
Hanging Detail: Includes a silver accent string for easy and secure hanging.
Customizable Design Templates
Product Description
Every snowflake is beautiful and unique just like you! Capture your own with our personalized pewter ornaments! The beauty will never melt away, and will have your Christmas tree endlessly gleaming! Our custom Christmas ornaments are a special way of displaying precious memories on your Christmas tree! Easily upload a photo or create your own design with our online design studio.
The snowflake shape ornament is an everlasting pewter material with a circular center to display your photo or design, giving it a unique vintage ornament look. Our personalized Christmas ornament comes in a small gift box for keepsake sure to preserve your picture ornament until the next holiday season. The snowflake shape is approximately 3 x 3 with a small silver accent string perfect for hanging. We print your photo or design in the center of the ornament with a size that is roughly 1.75 in diameter.
Care Instructions:
Wipe down with dampened cloth and soap
Rinse with warm water
Promptly dry afterwards
Product Specifications
Product ID
462364
SKU
cp-pwtr-rnmt+965833
Brand
YouCustomizeIt
Product Type
Ornaments
Print Style
Single-Sided
Product Dimensions
Approx. 3" x 2.75"
Material
Metal
Aluminum
Product Gender
Unisex
Printable Color
Full Color
Production Method
Sublimation
Department
Home + Garden
Shape
Snowflake
Design Color
Multicolored
Pattern
Multiple Patterns Available
Design Audience
Everyone
Design Gender
Gender Neutral
Personalization Style
Design Your Own
5 Stars

Gift
we always do memory ornaments at Christmas as a family. this year my daughter is over seas and we are sending her one to gift to her host mom and dad. we love how it turned out.
Reviewer:

Kathryn Young

|

Verified Customer
Date: Nov 10, 2022
Product: Design Your Own Vintage Snowflake Ornament
See All 1 Review