If you require assistance with our website, designing a product, or placing an order, you can contact us directly at 281-816-3285 (Monday to Friday 9am to 4pm Central Time)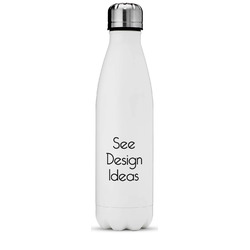 Custom Water Bottle

-

17 oz

-

Stainless Steel

-

Full Color Printing
Product Features:
Customizable: Personalize one of our 165+ starting designs, or design your own.
17 oz. Capacity: Convenient size for hydration on-the-go, ideal for the gym, work, or daily activities.
Stainless Steel Construction: Durable and sturdy material ensures long-lasting use and performance.
Double-Walled Insulation: Maintains cold beverage temperatures, perfect for keeping drinks refreshing.
Full Color Wraparound Printing: Personalize with unique designs or images for a custom touch.
Customizable Design Templates
About the Water Bottle - 17 oz - Stainless Steel - Full Color Printing
This tapered stainless steel water bottle is perfect for keeping your water extra cold when you're on the move.
Holding 17 oz. this water bottle is great to take with you to the gym. Your water will easily stay cool within its double walls.
More than that, you can personalize it to help you stay motivated when you need a break during your workouts!
Product Specifications
Product ID
262704
SKU
cp-tprd-wt-btl+965833
Brand
YouCustomizeIt
Product Type
Water Bottles
Print Style
Wrap Around
Product Dimensions
2.5" x 2.5" x 10.25"
Volume Capacity
17 oz.
Material
Metal
Stainless Steel
Product Gender
Unisex
Printable Color
Full Color
Production Method
Sublimation
Department
Drinkware
Sporting Goods
Design Color
Multicolored
Pattern
Multiple Patterns Available
Design Audience
Everyone
Design Gender
Gender Neutral
Personalization Style
Design Your Own
5 Stars

Perfect
It looks great! Exactly what I wanted.
Reviewer:

Julie Goldschmidt

|

Verified Customer
Date: Jan 15, 2020
Product: Inspirational Quotes Water Bottle - 17 oz. - Stainless Steel - Full Color Printing
5 Stars

Daughter LOVED it!
LOVED IT!
Reviewer:

Vianca

|

Verified Customer
Date: Dec 27, 2018
Product: Mermaid Water Bottle - 17 oz. - Stainless Steel - Full Color Printing (Personalized)
5 Stars

Water bottle
Came in time for Christmas! My son loved it.. only problem was bottle had a few marks not real big but noticeable.
Reviewer:

Ramona Adent

|

Verified Customer
Date: Dec 25, 2018
Product: Soccer Water Bottle - 17 oz. - Stainless Steel - Full Color Printing (Personalized)
See All 3 Reviews