If you require assistance with our website, designing a product, or placing an order, you can contact us directly at 281-816-3285 (Monday to Friday 9am to 4pm Central Time)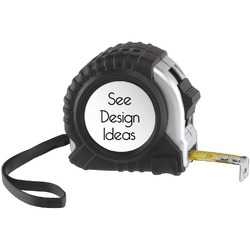 Product Features:
Customizable: Personalize one of our 525+ starting designs, or design your own.
Quality Material: Made with durable plastic and rubber wrapping, ensuring longevity and ruggedness.
Dual-Scale: Measures in both metric centimeters and inches, providing versatility.
Two Sizes: Available in two practical options - 16 ft (approx. 3" x 3" x 1") and 25 ft (approx. 3.25" x 3.25" x 1.75").
Added Features: Includes a belt clip and wrist loop for portability, along with a lock feature.
Customizable Design Templates
About the Tape Measure
Measuring tapes are an essential tool for any household! Whether it's for new furniture, remodeling, or DIY crafts, our customizable tape measures are a must-have item! Personalize our steel measuring tapes for your dad or favorite handyman to gift by uploading your own photo, design, logo, or more with our online design studio.
Our industrial tape measures are a strong plastic silver material with a durable black rubber coating wrapped around it to handle any job. Choose from one of our two sizes - 16ft or 25ft measuring tapes. Both options come with a belt clip so your tape measure is available whenever you need it! There is also a heavy-duty plastic wrist loop attached for extra portability. Each tape measure also comes with a lock feature to hold your measurement in place! Take measurements in metric centimeters or inches printed on the steel tongue.
Product Specifications
Product ID
464955
SKU
cp-tape-measure+965833
Brand
YouCustomizeIt
Product Type
Tape Measures
Print Style
Single-Sided
Product Dimensions

(Varies By Option)

16 ft. (Approx. 3" x 3" x 1")
25 ft. (Approx. 3.25" x 3.25" x 1.75")
Measurement Accuracy
+/- 1/16 in.
Material
Plastic
Metal
Rubber
Product Gender
Masculine
Printable Color
Full Color
Production Method
Sublimation
Department
Hardware + Tools
Design Color
Multicolored
Pattern
Multiple Patterns Available
Design Audience
Everyone
Design Gender
Gender Neutral
Personalization Style
Design Your Own