If you require assistance with our website, designing a product, or placing an order, you can contact us directly at 281-816-3285 (Monday to Friday 9am to 4pm Central Time)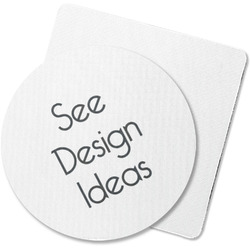 Custom Rubber Backed Coaster
Product Features:
Customizable: Personalize one of our 525+ starting designs, or design your own.
Dual-Material Construction: Composed of a smooth polyester top and non-slip, textured rubber backing.
Two Shape Options: Available in both round and square shapes to suit individual preferences.
Purchase Options: Can be bought either individually or as a set of 4 for a complete table set.
Easy Maintenance: Easily cleaned by wiping with a damp cloth or gentle hand washing.
Customizable Design Templates
About the Rubber Backed Coaster
Replace your boring, run-of-the-mill coasters with a set of 4 personalized coasters! When personalized, these coasters will protect your beloved surfaces while adding to your home's decor! Thanks to your coasters bright colors and unique design, your guests will be eager to use them!
These drink coasters have a smooth, polyester top and a textured, rubber backing on its bottom. The non-slip rubber backing underneath works to keep any spills at bay. At 4 by 4 by 0.25 inches thick, these custom coasters are a suitable size for most drinkware. Your personalization is displayed atop the face of the cup coaster. We sell these rubber coasters in two different shapes: square and round. You can buy each shape as singulars or as a set of 4.
When cleaning your new coaster set, we advise that you wipe the surface of each coaster with a dampened rag and some light detergent. Or, you can hand wash them with gentle soap, and then allow them to properly air dry.
Care Instructions:
Wipe surface with dampened rag and light detergent
Or hand wash with gentle soap
Allow for proper air drying
Now that you have a new set of table coasters, you'll need a few pieces of customizable glassware to complement them. Fortunately, we have plenty to offer! From wine glasses, to beer glasses, to whiskey glasses, we carry the product to suit any of your needs.
Product Specifications
Product ID
433497
SKU
cp-rubber-backed-coaster+965833
Brand
YouCustomizeIt
Product Type
Coasters
Print Style
Single-Sided
Product Dimensions
4" x 4"
Material
Rubber
Fabric
Fabric Blend
90% Polyester, 10% Spandex
Fabric Texture
Jersey Knit
Product Gender
Unisex
Printable Color
Full Color
Production Method
Sublimation
Department
Bar + Wine
Quantity

(Varies By Option)

Set of 4
Single
Shape

(Varies By Option)

Round
Square
Design Color
Multicolored
Pattern
Multiple Patterns Available
Design Audience
Everyone
Design Gender
Gender Neutral
Personalization Style
Design Your Own