If you require assistance with our website, designing a product, or placing an order, you can contact us directly at 281-816-3285 (Monday to Friday 9am to 4pm Central Time)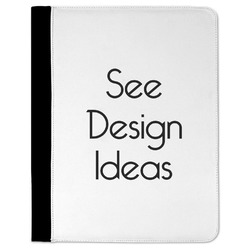 Custom Gender Neutral Padfolio Clipboard
Product Features:
Customizable: Personalize one of our 180+ starting designs, or design your own.
Document Storage: Includes a pocket for documents and business card holders for organization.
Pen Holder: Conveniently features a pen holder in the spine for easy note-taking.
Clipboard Feature: Equipped with a spring-loaded clipboard in the back cover for secure document holding.
Size Options: Available in two sizes, suitable for 5x8 or 8.5x11 papers depending on your needs.
About the Padfolio Clipboard
If you need a nice way to keep documents organized these clipboard padfolios are a great option. With the personalized front you can make it all your own as well.
Made from a polyester material, the padded front cover is customizable and the back cover is also padded for a nice soft surface. On the inside you will find a pocket for documents inside the front cover in addition to business card holders near the bottom. In the spine of these padfolios you have a place to put a pen to write with. Inside the back cover is where you will find the spring loaded clipboard with rubber feet to ensure your documents are held securely.
Available in two sizes - large will hold 8.5 x 11 paper in front cover pocket as well as clipboard, small will hold 5 x 8 paper in front cover as well as on clipboard. Add your business logo, a meaningful bible verse or a picture of your kids to the front cover for that personal touch to make these portfolios yours.
Product Specifications
Product ID
512926
SKU
cp-pdfl-clpbrd+965833
Brand
YouCustomizeIt
Product Type
Padfolios
Print Style
Single-Sided
Product Dimensions

(Varies By Option)

Small (9" x 7" x 1.25")
Large (12.5" x 10")
Material
Fabric
Fabric Blend
100% Polyester
Fabric Texture
Silky Smooth
Product Gender
Unisex
Printable Color
Full Color
Production Method
Sublimation
Department
Office + Desk
Design Color
Multicolored
Pattern
Multiple Patterns Available
Design Audience
Everyone
Design Gender
Gender Neutral
Personalization Style
Design Your Own
5 Stars

Awesome!
I love my portfolio! It was so cool to be able to save copies to compare before selecting the design I wanted. The finished product looks EXACTLY like it did online and I couldn't be happier. I will definitely use this company again!
Reviewer:

Stephanie R Adams

|

Verified Customer
Date: Jun 18, 2021
Product: Chic Beach House Padfolio Clipboard
See All 1 Review