If you require assistance with our website, designing a product, or placing an order, you can contact us directly at 281-816-3285 (Monday to Friday 9am to 4pm Central Time)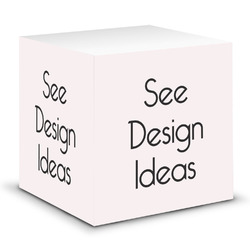 Product Features:
Customizable: Personalize one of our 525+ starting designs, or design your own.
Generous Quantity: 700 sheets of 3.5" x 3.5" paper provide ample space for notes and reminders.
Versatile Usage: Perfect for personal reminders, to-do lists, or temporary bookmarks.
Personalized Design: Display your creativity on all four edges with a custom wrap-around design.
Convenient Access: Keep the sticky note cube on your desk for easy access when needed.
Customizable Design Templates
About the Sticky Note Cube
Always searching for scrap paper to quickly jot down notes or thoughts? Look no further! With our personalized sticky notes, note paper will always be readily available to you, and you'll be able to display a bit of your creativity on your desk. Personalize a set of custom sticky notes for yourself, or as a gift for the avid note-taker in your life!
This note cube features 700 sheets of matte, white paper. Each sheet measures at 3.5 by 3.5 inches and has an adhesive strip at its top. Your personalized design is displayed on all four edges of the sticky pad.
While perched on your desk, these personalized notepads would look wonderful alongside some other coordinated accessories! Wander over to our Office and Desk category, where you'll find a plethora of serviceable, yet beautiful, office supplies. For more note-taking options, try customizing a hardcover notebook, a notepad, or zippered padfolio.
Product Specifications
| | |
| --- | --- |
| Product ID | 186824 |
| SKU | cp-note-cube+965833 |
| Brand | YouCustomizeIt |
| Product Type | Sticky Note Cubes |
| Print Style | Wrap Around |
| Product Dimensions | 3.5" x 3.5" x 3.5" |
| Material | Paper |
| Paper Size | 3.5" x 3.5" |
| Product Gender | Unisex |
| Printable Color | Full Color |
| Production Method | Printed Media |
| Department | Office + Desk |
| Finish | Matte |
| Design Color | Multicolored |
| Pattern | Multiple Patterns Available |
| Design Audience | Everyone |
| Design Gender | Gender Neutral |
| Personalization Style | Design Your Own |