Design Your Own Personalized Mouse Pads with Wrist Support
$16.95
In Stock
Ships in 3-4 Business Days
(3 Reviews)
Memory foam pad
Rubber feet on bottom
Durable plastic
Reviews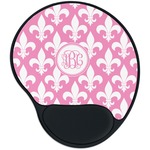 Mouse Pad
I am enjoying my new mouse pad. I couldn't believe how quickly I received it. It looks just like the diagram. thank you
Reviewer: DIANE M. SCARNECCHIA
Product: Fleur De Lis Mouse Pad with Wrist Support
Great Gift
I bought this mouse pad and the pencil cup for my sister in law for Christmas. It was so much fun to design it myself and actually see the finished product. After the preview, I went back to the design page and made some changes. There were so many choices it was almost impossible to decide which ones to use. Once I was satisfied with my "creation" I placed the order. It arrived quickly and I am delighted with both the mouse pad and the pencil holder. I would give this company 5 stars for quality of products and the almost endless design choices. Plus it was fun and easy to do. There are also many products to choose from and I plan to visit this store when it's time for birthday gifts. So easy to do. No shopping in malls to find a gift. PS - for new customers there is a discount code which I forgot to use, so be sure to remember to use it when you order!
Reviewer: Diane Eades
Product: Design Your Own Mouse Pad with Wrist Support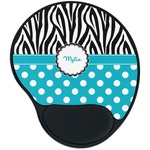 It came out really nice and shipping was pretty fast
This mouse pad was purchased for my wife. It came out really nice and shipping was pretty fast. I would recommend this mouse pad.
Reviewer: Anonymous
Product: Dots & Zebra Mouse Pad with Wrist Support
See All 3 Reviews
Product Description
This mouse pad is perfect for a long day at work sitting at your computer. It will give your desk some bling and your hand a little cushion.
This rounded mouse pad is 10.25" x 9.125"; the perfect size for resting your hand and giving your mouse its necessary movement.
The bottom of the pad is plastic with rubber feet on it for no slippage. The padded wrist support is made of a squishy memory foam. The top of the pad is a polyester material printed with your personalized design.
Personalize your mouse pad with something that shows off your personality! Start with one of our designs and change everything from the background to the text to really make it yours. Change a little or change it all!
If you ever need any help in our design center, just give us a call. Our customer service agents are always happy to help.