Design Your Own Personalized Lunch Boxes
$21.95
In Stock
Ships in 3-5 Business Days
(2 Reviews)
Retro Design
Collapsible plastic handle with metal latch closure
Lunch or Keepsake Box
Available in multiple designs, patterns and colors
Designs Ready For You To Customize
Looking for More?
Reviews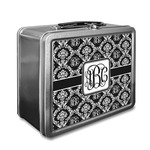 100%
Had a lot of fun designing this. Was scheduled to be here Jan 7th but arrived really early on dec 22. Just in time for Christmas! I am so pleased with my order and I will be ordering again!!
Reviewer: Marguerite
Product: Monogrammed Damask Lunch Box (Personalized)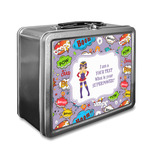 See All 2 Reviews
Product Description
Our retro design metallic lunch boxes will remind you of days gone by when you carried your lunch to school in a similar styled metal lunch box! Our lunch boxes / tins are perfect as lunch boxes, but can also makes a great keepsake box especially when they are personalized. The metallic silver box is customized on the front and the back, with identical or different designs - the choice is yours. Our custom metal box has a collapsible plastic handle and a metal latch closure.
Your custom design(s) are printed on high gloss vinyl with eco-solvent inks. are waterproof and will not fade or deteriorate over time. The designs are machine cut and adhered to each side of the lunch box.