If you require assistance with our website, designing a product, or placing an order, you can contact us directly at 281-816-3285 (Monday to Friday 9am to 4pm Central Time)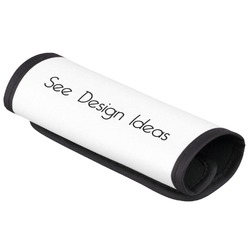 Custom Flower Luggage Handle Cover
Product Features:
Customizable: Personalize one of our 70+ starting designs, or design your own.
Quick Identification: Unique designs help spot your luggage quickly on airport carousels.
Versatile Use: Suitable for luggage, shoulder bags, gym bags, purses, shopping bags, and seat belts.
Comfortable Grip: Neoprene fabric provides a soft, cushioned feel for your hands during travel.
Secure Fit: Features Velcro closure and black trim to snugly fit around various handle sizes.
About the Luggage Handle Cover
Luggage handle covers are not only functional - as they quickly help you identify your luggage on the airport carousel, they can make a stylish statement when you combine them with one of our luggage tags. The soft polyester fabric wraps snugly around handles to make carrying your bag more comfortable. This luggage handle wrap can also be use on shoulder bags, gym bags, purses, shopping bags and even seat belts.
We offer covers in 100s of different designs and each can be easily customized by you in our design system. You can change the background, the colors, the personalization style. You can also upload your own design or a photo and add personalization to your art. Create a luggage tag in the same or coordinating design and you will travel in style.
The luggage handle covers are made of neoprene with black trim and have Velcro closure to snugly fit around the handle. Your design is printed on the neoprene. The covers measure approx 5"x6".
Product Specifications
Product ID
186827
SKU
cp-lgg-hndl-cvr+965833
Brand
YouCustomizeIt
Product Type
Luggage Handle Covers
Print Style
Wrap Around
Product Dimensions
Approx. 5" x 6"
Material
Neoprene
Fabric
Fabric Blend
90% Polyester, 10% Spandex
Fabric Texture
Jersey Knit
Product Gender
Unisex
Printable Color
Full Color
Production Method
Sublimation
Department
Luggage + Bags
Design Color
Multicolored
Pattern
Multiple Patterns Available
Design Audience
Everyone
Design Gender
Gender Neutral
Personalization Style
Design Your Own