If you require assistance with our website, designing a product, or placing an order, you can contact us directly at 281-816-3285 (Monday to Friday 9am to 4pm Central Time)
Custom Leatherette Checkbook Holder - Double-Sided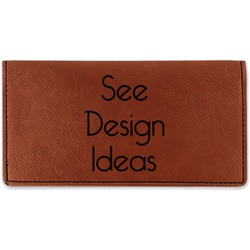 Product Features:
Customizable: Personalize one of our 200+ starting designs, or design your own.
Premium Material: Leatherette that feels and looks like real leather for a sophisticated appearance.
Ideal Size: Approximately 6.75" x 3.5", designed to fit standard checkbooks comfortably.
Functional Design: Two slots on top and bottom to securely hold your checkbook in place.
Elegant Color: Beautiful cognac/medium brown shade adds a classic style to your accessories.
Print Style
Customizable Design Templates
Product Description
Accessorizing can be tough. Go classic with some leatherette! Start with a leatherette checkbook cover. You can never go wrong with a gorgeous faux leather look.
These checkbook covers are a beautiful cognac / medium brown color. They measure at approximately 6.75" x 3.5" when closed. On the inside there are two slots to slide in your checkbook. The leatherette material is smooth to the touch and looks great as a main accessory.
Go into our design center to start personalizing. Your checkbook cover will be laser engraved, making the graphic or text a black color. Choose a fun saying, monogram, or font to go on your checkbook cover. You have the opportunity to do it double or single sided. If you ever need any help, just ask!
We have several different kinds of checkbook covers if this isn't quite the right one for you. Want some color? Check out our vinyl checkbook cover and our sublimated checkbook cover. All are great options. Be sure not to miss our wallets and purses section where you'll find all kinds of great accessories.
Product Specifications
Product ID
268164
SKU
cp-lthrette-chkbk-hldr-dbl+965833
Brand
YouCustomizeIt
Product Type
Checkbook Covers
Print Style

(For Selected Option)

Double-Sided
Product Dimensions
6.75" x 3.5"
Material
Leather (Faux)
Product Gender
Masculine
Printable Color
Pre-Defined Color
Production Method
Laser Engraved
Department
Apparel + Accessories
Base Color
Rawhide
Design Color
Multicolored
Pattern
Multiple Patterns Available
Design Audience
Everyone
Design Gender
Gender Neutral
Personalization Style
Design Your Own