If you require assistance with our website, designing a product, or placing an order, you can contact us directly at 281-816-3285 (Monday to Friday 9am to 4pm Central Time)
Custom Glass Rectangular Lunch / Dinner Plate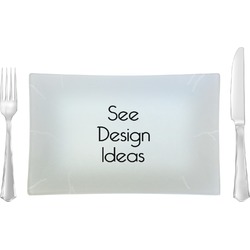 Product Features:
Customizable: Personalize one of our 520+ starting designs, or design your own.
Microwave Safe
Rectangular Plates are 14" W x 10" H
Also available to buy in a set of 4!
Customizable Design Templates
Looking for More?
Want more than one? Buy this rectangular dinner plate in a set of 4! If you're hooked on glass, but looking for something a little more traditional, look through our whole plate collection ; we have many shapes and sizes to choose from!
Love the idea, but don't quite trust your kiddos with glass plates? Our melamine plates are a big hit with moms and kids alike because of their durability.
Continue browsing our Dining Room department, as well as our Kitchen department!
Product Description
Tired of your old, over-used round plates? Think your dining room needs a major make-over? Our plate collection has the perfect thing!
This rectangular plate is about 14" in width and 10" in height; the perfect size for lunch or dinner. These plates are dishwasher safe - proving high in function and in beauty.
With a huge catalog of designs and patterns, these plates are completely customizable. Choose a design covered in your favorite food, or go classic with stripes or plaid. It's entirely up to you! These plates are handmade special for you. Minor wrinkles in the design are expected, and shown in the images above. Print quality may vary from plate to plate, and matches can not be guaranteed.
These plates also make amazing wedding gifts. Gift the newlyweds with their first personalized plates!
Instructions:
Microwave Safe
NOT Dishwasher Safe
Hand wash in warm water with soap
Product Specifications
Product ID
186569
SKU
cp-rct-plt-dnnr+965833
Brand
YouCustomizeIt
Product Type
Lunch / Dinner Plates
Print Style
Single-Sided
Product Dimensions
14" x 10"
Material
Glass
Product Gender
Unisex
Printable Color
Full Color
Production Method
Sublimation
Department
Home + Garden
Quantity

(For Selected Option)

Single
Shape
Rectangle
Design Color
Multicolored
Pattern
Multiple Patterns Available
Design Audience
Everyone
Design Gender
Gender Neutral
Personalization Style
Design Your Own
4 Stars

The image is not exactly straight which I find a little annoying, but not enough to return it
The process was as described to customize the plate with name and color selection. The plate arrived on time. The image is not exactly straight which I find a little annoying, but not enough to return it.
Reviewer:

TravelSnob2
Date: Dec 07, 2016
Product: Paris & Eiffel Tower Glass Rectangular Lunch / Dinner Plate (Personalized)
See All 1 Review