If you require assistance with our website, designing a product, or placing an order, you can contact us directly at 281-816-3285 (Monday to Friday 9am to 4pm Central Time)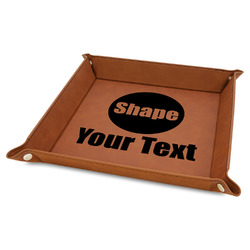 Custom Faux Leather Valet Tray
Product Features:
Customizable: Personalize one of our 205+ starting designs, or design your own.
Robust Material: Made from synthetic leather, built to withstand frequent and heavy use.
Color Options: Available in rawhide or teal leatherette material for personal preference.
Size Variations: Offered in small (6" x 6") and large (9" x 9") sizes for versatile usage.
Easy Maintenance: Water-resistant and easily cleaned with warm water and mild detergent.
Customizable Design Templates
About the Faux Leather Valet Tray
The leather valet tray makes a great place to store all kinds of things. From keys and wallet to watch and rings it makes a great place to stash away all of your daily use items.
The leatherette wraps the hard board base and sides with flexible hinges to fold the sides up. The corners are secured using silver snaps to fold into a great tray for holding your pocket items. The 6in x 6 in tray measures approximately 9.5in x 9.5in when laid flat. The 9in x 9in tray measures approximately 13in x 13in when laid flat.
Available in rawhide or teal finish, you are sure to find a color and design that matches your needs. Both engrave in a rich grey and black to show your personalization and will not wear off since it is laser engraved. Use our design studio to design your tray to perfectly fit your personality.
Not only is this a great product for use as a valet tray, they have many other great uses such as a dice rolling tray for games. The soft leatherette base provides the perfect surface to roll dice in and the raised edges keep them contained. The various uses make these a great item to give as a gift to that special someone in your life.
Care Instructions:
Wipe down with warm water and a bit of mild detergent
Dry with a towel
Apply leather conditioner when necessary
Product Specifications
Product ID
510332
SKU
cp-try-lthrette+965833
Brand
YouCustomizeIt
Product Type
Valet Trays
Print Style
Single-Sided
Product Dimensions

(Varies By Option)

Small (Approx. 6" x 6")
Large (Approx. 9" x 9")
Material
Leather (Faux)
Product Gender
Masculine
Printable Color
Pre-Defined Color
Production Method
Laser Engraved
Department
Office + Desk
Base Color

(Varies By Option)

Brown
Teal
Design Color
Multicolored
Pattern
Multiple Patterns Available
Design Audience
Everyone
Design Gender
Gender Neutral
Personalization Style
Design Your Own
5 Stars

Personalized Valet Tray
Very pleased with the way the valet tray turned out. It is a present for my Grandson's Baptism and he loves it. Fast shipping. Very satisfied.
Reviewer:

Linda F Bouchillon

|

Verified Customer
Date: May 28, 2022
Product: Design Your Own Faux Leather Valet Tray
5 Stars

Faux Leather Valet Tray Looks Great!
I was really interested in getting a faux leather valet tray as a gift for my friend who owns a board gaming store. I wanted his store's logo on it (with permission), but the logo had tons of colors which would probably not work with laser engraving. However, Perry was able to modify the logo so that it was black with negative space inside the logo's text and worked perfectly.
Reviewer:

Alexander

|

Verified Customer
Date: Oct 26, 2021
Product: Design Your Own Faux Leather Valet Tray
See All 2 Reviews