If you require assistance with our website, designing a product, or placing an order, you can contact us directly at 281-816-3285 (Monday to Friday 9am to 4pm Central Time)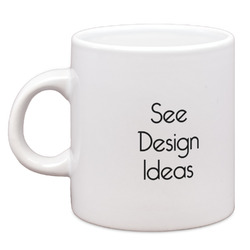 Product Features:
Customizable: Personalize one of our 525+ starting designs, or design your own.
Quality Material: Made from durable ceramic, ensuring your drink stays warm.
Size Options: Available in 3 oz. (single shot) and 6 oz. (double shot) sizes for versatility.
Quantity Variability: Sold individually or in sets of four, fitting various customer needs.
Safe and Convenient: Both dishwasher and microwave safe for easy use and cleaning.
Customizable Design Templates
About the Espresso Cup
Pinkies out! Sip your favorite espresso with our personalized espresso cups! Our cute little espresso mugs are ideal for that morning shot of caffeine before you start your day! Make your mugs extra special by creating your own custom-designed espresso cup. Use our online design studio to customize designs, create your own, or upload a photo!
Each of our espresso mugs is a ceramic material sure to keep your drink warm. Personalize one cup for yourself, or order a set of 4! Its the perfect little gift for any coffee lover! We carry two sizes for you to personalize - 3 oz. (approx. 3.25" x 2.325" x 2.625") or 6 oz. (approx. 4" x 2.9" x 2.9"). Our 3 oz. mug is perfect for that single shot espresso while our 6 oz. mug can be your next favorite cappuccino cup holding two shots of espresso!
Care Instructions:
Dishwasher Safe
Microwave Safe
Product Specifications
Product ID
406224
SKU
cp-esprso-cp-s-4+965833
Brand
YouCustomizeIt
Product Type
Coffee Mugs
Print Style
Wrap Around
Product Dimensions

(Varies By Option)

3 oz. Mug (Approx. 3.25" x 2.325" x 2.625")
6 oz. Mug (Approx. 4" x 2.9" x 2.9")
Volume Capacity

(Varies By Option)

3 oz.
6 oz.
Material
Ceramic
Product Gender
Unisex
Printable Color
Full Color
Production Method
Sublimation
Department
Drinkware
Quantity

(Varies By Option)

Set of 4
Single
Design Color
Multicolored
Pattern
Multiple Patterns Available
Design Audience
Everyone
Design Gender
Gender Neutral
Personalization Style
Design Your Own