If you require assistance with our website, designing a product, or placing an order, you can contact us directly at 281-816-3285 (Monday to Friday 9am to 4pm Central Time)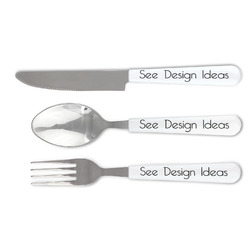 Product Features:
Customizable: Personalize one of our 525+ starting designs, or design your own.
Quality Material: Crafted from stainless steel, ensuring durability and longevity.
Versatile Set: Includes a spoon, a fork, and a knife, suitable for different meals and dishes.
Knife Features: Knife has a serrated section for cutting and a smooth section for spreading.
Easy to Clean: Can be easily hand washed and air dried, maintaining its glossy finish.
Customizable Design Templates
About the Cutlery Set
One of those items we all use on a daily basis and never give it much thought - cutlery. Having your own customized set of cutlery adds that special touch. A great addition to our custom plates and drinking pint glasses, this flatware set can be made in the same patterns to match.
This set features a fork, a spoon and a knife. The fork has 4 prongs, the spoon is a nice size for adults and the knife has a short serrated section for cutting as well as a smooth section for spreading. The pieces in this silverware set are crafted from Stainless Steel with a durable plastic handle.
We print your customization on the handles, making these cutlery sets unique to you.
To clean your personalized cutlery we recommend washing by hand and allowing to air dry.
Product Specifications
Product ID
512916
SKU
cp-ctlry-st+965833
Brand
YouCustomizeIt
Product Type
Eating Utensils
Print Style
Double-Sided
Product Dimensions
Cutlery Set (8" x 3")
Material
Metal
Stainless Steel
Plastic
Product Gender
Unisex
Printable Color
Full Color
Production Method
Sublimation
Department
Home + Garden
Quantity
3-Piece Set
Design Color
Multicolored
Pattern
Multiple Patterns Available
Design Audience
Everyone
Design Gender
Gender Neutral
Personalization Style
Design Your Own
5 Stars

Great Product
I absolutely love the silverware! It is exactly what I wanted! Planning to order an Easter set.
Reviewer:

Sharon

|

Verified Customer
Date: Nov 02, 2021
Product: Traditional Thanksgiving Cutlery Set (Personalized)
5 Stars

Incendiary Tableware
First, let me thank you for getting the flatware delivered before the 4th of July. I've hosted, for the last 47 years (except the pandemic year) a Post-Hermosa Beach Ironman Barbecue Party. Despite not having the usual 50-100 people attend, the party was still a success—and I owe it to the personalized tableware you created for me. Everyone raved about them at the party! They wanted to know where I purchased them; if they were still available; and the cost. Since I anticipate a larger crowd next year, I will be ordering more flatware to accommodate the extra guests. I'm even contemplating ordering the utensils with the regular guest's monograms on them for an added personal touch.
Reviewer:

Michael Lewis

|

Verified Customer
Date: Jul 06, 2021
Product: Stars and Stripes Cutlery Set (Personalized)
See All 2 Reviews