If you require assistance with our website, designing a product, or placing an order, you can contact us directly at 281-816-3285 (Monday to Friday 9am to 4pm Central Time)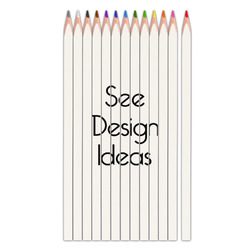 Product Features:
Customizable: Personalize one of our 525+ starting designs, or design your own.
Variety of Colors: Set includes 12 colored pencils and 1 HB pencil, ideal for artists of all ages.
Rectangular Shape: Unconventional rectangular design for a comfortable and distinctive grip.
Easy to Sharpen: Compatible with standard sharpeners, allowing for hassle-free sharpening.
Portable Storage: Comes with a clear plastic carrying case for easy organization and transport.
Customizable Design Templates
You May Also Be Interested In
About the Colored Pencils
Colored pencils have been around forever, but now you get a set of custom printed colored pencils. These custom colored pencils make a perfect gift for that special child who is starting to draw and color, that budding artist, or you can just get a gift for yourself!

This set includes 12 colored pencils and 1 HB pencil. Pencils are not sharpened. The pencils have an unusual shape - they are rectangular.

Your artwork / design is printed in full color across the top of all 13 pencils. The back and sides of the pencils are white. The pencils come in a clear plastic container / carrying case.

The colors of the pencils are: Crimson, Pink, Orange, Yellow, Green, Hunter Green, Blue, Indigo, Purple, Brown, Black, and White, plus an HB drawing pencil.

The image / design that you can put on these custom colored pencils is only limited by your imagination. You can upload a photo or logo and then add some text, or you can customize one of our designs and change the patterns, colors, personalization - i.e. name, text, monogram, initial etc.
Product Specifications
| | |
| --- | --- |
| Product ID | 656505 |
| SKU | cp-pncl-clrd+965833 |
| Brand | YouCustomizeIt |
| Product Type | Coloring Pencils |
| Print Style | Single-Sided |
| Product Dimensions | Approx. 6.8" x 3.5" |
| Material | Wood |
| Product Gender | Unisex |
| Printable Color | Full Color |
| Production Method | Direct-to-Product |
| Department | Office + Desk |
| Design Color | Multicolored |
| Pattern | Multiple Patterns Available |
| Design Audience | Everyone |
| Design Gender | Gender Neutral |
| Personalization Style | Design Your Own |
5 Stars

LOOK GREAT
They look great. They are a Christmas gift so I can't give a review on how they do.
Reviewer:

Terry Gilchrist

|

Verified Customer
Date: Aug 31, 2023
Product: Vintage Floral Colored Pencils (Personalized)
See All 1 Review