If you require assistance with our website, designing a product, or placing an order, you can contact us directly at 281-816-3285 (Monday to Friday 9am to 4pm Central Time)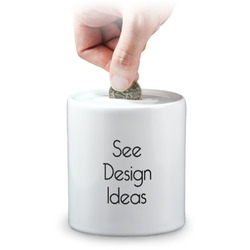 Product Features:
Customizable: Personalize one of our 525+ starting designs, or design your own.
Ceramic Material: Durable and attractive, this coin bank is made of quality ceramic material.
Easy Coin Insertion: Features a large slit on top for hassle-free coin depositing.
Convenient Access: Large hole on the bottom and a rubber plug make it easy to retrieve coins when needed.
Ideal Dimensions: Measuring approximately 3.75" x 3.25", it's perfect for displaying on nightstands or dressers.
Customizable Design Templates
About the Coin Bank
Every kid needs their own coin bank. Maybe even adults need them too! No matter what age, it's always more fun to have one that is personalized by you!
This coin bank is a fun way to decorate a nightstand or a dresser. The bank is a cylindrical shape and is made of ceramic. On the bottom it has a hole big enough for coins to fall out of easily with a rubber plug to stop them from falling when on display. On the top of the bank there is a large slit big enough to slide your coins through with ease. The coin bank measures at approximately 3.75" x 3.25".
Make designing your coin bank an adventure! Go through our system to find the exact pattern, font, frame, ribbon, and more that fit your very own personality. You can even try to match your décor. Using our design center is a breeze, but if you have any questions, be sure to give us a call or get on our online chat for any kind of help you may need.
Product Specifications
| | |
| --- | --- |
| Product ID | 219500 |
| SKU | cp-cn-bnk+965833 |
| Brand | YouCustomizeIt |
| Product Type | Money Jars |
| Print Style | Wrap Around |
| Product Dimensions | Approx. 3.25" x 3.25" x 3.75" |
| Material | Ceramic |
| Product Gender | Unisex |
| Printable Color | Full Color |
| Production Method | Sublimation |
| Department | Home + Garden |
| Design Color | Multicolored |
| Pattern | Multiple Patterns Available |
| Design Audience | Everyone |
| Design Gender | Gender Neutral |
| Personalization Style | Design Your Own |