If you require assistance with our website, designing a product, or placing an order, you can contact us directly at 281-816-3285 (Monday to Friday 9am to 4pm Central Time)
Custom Ceramic Pencil Holders - Black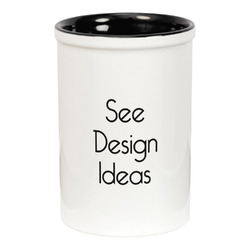 Product Features:
Customizable: Personalize one of our 525+ starting designs, or design your own.
Quality Material: Made from durable ceramic, ensuring a sturdy and long-lasting pen and pencil holder.
Generous Dimensions: Approximately 3.5" x 3.5" x 5", perfect for various desk accessories.
Color Options: Blue or black interior with a customizable exterior for a stylish two-toned look.
Multipurpose Use: Ideal for holding pens, pencils, and brushes, keeping your workspace tidy.
Base Color
Customizable Design Templates
Looking for More?
The ceramic pencil holders are a great organization tool for the office desk or even bathroom sink! Browse more office accents in our
Office + Desk
department to create a new and unique workspace! Looking for more organizers for more than one use just like our ceramic pencil holder? Check out our
cosmetic bags
you can use for him and her toiletries!
Product Description
Need help with keeping the workspace clean and tidy? Try using our customizable pencil holders! They're great desk accents for the office, kids desk, or even vanity mirror. Our custom pencil holders are ideal for holding pens, pencils, and even brushes to keep your area from any clutters. The best part about our custom desk pen organizers is the two-toned look! Choose one from either our black or blue interior and customize the outside of the pencil holder with your own personalized design! Use our online design studio to create logos, monograms, or even print a favorite photo to display on the cup holder! Create a cute pencil holder for the kid's desk, or add a cool design to hold any brushes. The options are endless!

Both the blue and black pencil holders are a ceramic material, giving you a sturdy and long-lasting pen and pencil holder. We print your designs on the exterior of the pencil cup, covering most of the outside surface. There is a small white border on the top and bottom of the exterior of the pen holder, setting apart your design from the interior's color. Our ceramic pen caddy is roughly 3.5" x 3.5" x 5" in dimensions.
Care Instructions:
Wipe down surface with dampened cloth and gentle detergent
Hand wash with cleanser for thorough clean
Allow to air dry afterwards
Product Specifications
Product ID
489816
SKU
cp-pncl-cddy-blk+965833
Brand
YouCustomizeIt
Product Type
Pen Holders
Print Style
Wrap Around
Product Dimensions
Approx. 3.5" x 3.5" x 5"
Material
Ceramic
Product Gender
Unisex
Printable Color
Full Color
Production Method
Sublimation
Department
Office + Desk
Base Color

(For Selected Option)

Black
Design Color
Multicolored
Pattern
Multiple Patterns Available
Design Audience
Everyone
Design Gender
Gender Neutral
Personalization Style
Design Your Own