If you require assistance with our website, designing a product, or placing an order, you can contact us directly at 281-816-3285 (Monday to Friday 9am to 4pm Central Time)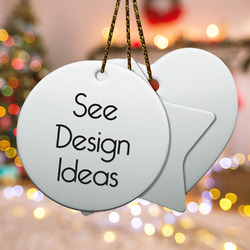 Product Features:
Customizable: Personalize one of our 525+ starting designs, or design your own.
High Quality Material: Crafted from ceramic for a vintage, pottery-like aesthetic.
Convenient Dimensions: Approximately 3" x 3", a perfect size to stand out on your Christmas tree.
Multiple Shape Options: Choose from round, star, or heart shapes for personalization.
Easy Care: Simply wipe the surface with a dry or damp cloth as needed.
Customizable Design Templates
About the Ceramic Ornament
Have a happy holiday and share the joy of Christmas with your loved ones by hanging up personalized ceramic ornaments! Ornaments add a touch of who you are and the things you love onto the Christmas tree! Create custom ornaments for the kids and have them hang up their own star with their name, or pay remembrance this holiday to missed loved ones with our ceramic heart ornament. Browse many of our unique designs and customize them the way you'd like! From monograms, logos, and patterns, we have it all! You can even upload a photo of your family for us to print onto the ornament! The possibilities are endless!
Our ceramic ornaments are a nice touch of pottery like accents not only for a rustic of vintage-themed Christmas but for any style you want to do this holiday! We carry a selection of flat ceramics to personalize. Choose from a round, star, or heart-shaped porcelain ornament to design! Each shape is approximately 3" x 3" and is perfect for long term use to adorn your tree every holiday! Use our online design studio to personalize your own ceramic ornament today!
Care Instructions:
Wipe the surface with a dry or damp cloth if needed
Get into the Christmas spirit with more of our
Christmas gifts and decor
! We have some of the most unique personalized items perfect for gifting.
Product Specifications
Product ID
478052
SKU
cp-crm-ornmt+965833
Brand
YouCustomizeIt
Product Type
Ornaments
Print Style
Single-Sided
Product Dimensions
Approx. 3" x 3" x 0.5"
Material
Ceramic
Product Gender
Unisex
Printable Color
Full Color
Production Method
Sublimation
Department
Holiday + Seasonal
Shape

(Varies By Option)

Heart
Star
Round
Design Color
Multicolored
Pattern
Multiple Patterns Available
Design Audience
Everyone
Design Gender
Gender Neutral
Personalization Style
Design Your Own
5 Stars

Ceramic Ornaments
Today is my one year anniversary with my fiance and I was beyond happy these came in today! They are absolutely beautiful and the perfect size! I highly recommend this site for anyone. I plan on ordering a lot more from here.
Reviewer:

Adrianna Losoya

|

Verified Customer
Date: Jan 15, 2022
Product: Design Your Own Ceramic Ornament
5 Stars

Perfect for Math wizard Grandson
I looked in a lot of places for a "perfect" Math ornament for my 11 year old Grandson. You had it !! Thank you. Love the design and all the options you presented for me to tweak it. I'm happy I found you to give, and encourage, Derek's love of math. Gramma on the Farm
Reviewer:

Gramma Bobbi

|

Verified Customer
Date: Dec 10, 2021
Product: Math Lesson Ceramic Ornament w/ Name or Text
5 Stars

Adorable!
This round ceramic ornament is the perfect addition to my tree this year. I have made my own ornaments with photographs of my siblings and I from when we kids, continuing a tradition my mother did for us growing up. I now want to add my nieces and nephews to my tree and have been looking for different ways to add them other than making my DIY ornaments. This ornament is so smooth and while I was worried about the cropping and color (because it is a dark photo), it came out perfectly. I had to replace the ribbon that originally came with it because I wasn't sure it would be strong enough long term and I also like a little more flare to my ornaments anyway. I would highly recommend this for anyone who is looking to create more personalized ornaments and I will be getting the other shapes available too!
Reviewer:

Steph

|

Verified Customer
Date: Nov 19, 2021
Product: Design Your Own Ceramic Ornament
See All 3 Reviews