If you require assistance with our website, designing a product, or placing an order, you can contact us directly at 281-816-3285 (Monday to Friday 9am to 4pm Central Time)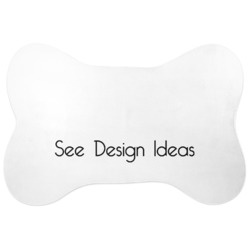 Custom Adult Bone Shaped Dog Food Mat
Product Features:
Customizable: Personalize one of our 230+ starting designs, or design your own.
Two Size Options: Available in small (19" x 13") and large (26.75" x 18") sizes to suit all dogs.
Non-Slip Functionality: Equipped with a rubber underside to prevent mat from slipping during use.
High-Quality Material: Top made of durable polyester fabric with a silky smooth texture.
Easy to Clean: Simply wipe off or shake out for routine cleaning, hand wash for deep clean.
About the Bone Shaped Dog Food Mat
The bone-shaped dog bowl mat is the perfect way to add a touch of personality to your dog's eating area! Dogs make inevitable messes, especially when they eat and drink. Save the integrity of your floors and the time spent cleaning them by purchasing a personalized mat that catches spills!
The top of this mat displays your custom design, as it is printed on polyester. To prevent slippage, the underside of the mat is made of rubber. We offer a small dog food mat, suitable for smaller dogs and a large dog food mat for bigger breeds. The small dog food mat is approximately 19 by 13 inches, while the large dog feeding mat measures at approximately 26.75 by 18 inches. Both personalized mats are ideally sized to fit two dog bowls.
For easy cleaning, simply wipe off or shake out the mat. If needed, it can be washed in the sink with a mild detergent.
Care Instructions:
Wipe off or shake out
Hand wash in sink with mild detergent or dish soap
Product Specifications
Product ID
432975
SKU
cp-bone-dog-mat+965833
Brand
YouCustomizeIt
Product Type
Dog Food Mats
Print Style
Single-Sided
Product Dimensions

(Varies By Option)

Small (Approx. 19" x 13")
Large (Approx. 26.75" x 18")
Material
Rubber
Fabric
Fabric Blend
100% Polyester
Fabric Texture
Silky Smooth
Product Gender
Unisex
Printable Color
Full Color
Production Method
Sublimation
Department
Pet Accessories
Design Color
Multicolored
Pattern
Multiple Patterns Available
Design Audience
Everyone
Design Gender
Gender Neutral
Personalization Style
Design Your Own