If you require assistance with our website, designing a product, or placing an order, you can contact us directly at 281-816-3285 (Monday to Friday 9am to 4pm Central Time)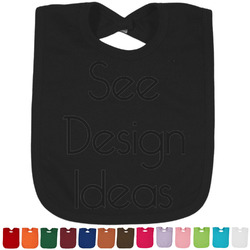 Product Features:
Customizable: Personalize one of our 270+ starting designs, or design your own.
Soft Material: Made from 100% cotton, ensuring a gentle and comfortable feel for your baby.
Durable Design: Double stitch binding on edges ensures the bib can withstand daily use.
Easy-to-Use: Velcro closure makes attaching and removing the bib a breeze during mealtime.
Versatile Size: Measuring at 14" x 6.5", suitable for a wide range of baby ages and sizes.
Customizable Design Templates
About the Cotton Baby Bib
Enjoy stress-free mealtime with your little one by gifting them one of these baby bibs. When personalized, these custom baby bibs will bring delight to your baby boy or baby girl. Customize a few today for your young one's lunch and dinner, or as a part of a baby shower gift for expectant parents in your life!
These bibs are made from 100% cotton, making them very soft-to-the-touch. The edges are lined with a double stitch binding, making them durable enough to withstand daily use. Each one measures at 14" x 6.5" and features a velcro closure to make mealtime that much easier. This toddler bib is sold in fourteen different colors that will each serve as a nice backdrop for your customized design. Choose from a variety of colors.
Product Specifications
Product ID
245855
SKU
cp-bib+iot-965833
Brand
YouCustomizeIt
Product Type
Bibs
Print Style
Single-Sided
Product Dimensions
Approx. 14" x 6.5"
Apparel Size
One Size
Material
Fabric
Fabric Blend
100% Cotton
Fabric Texture
Jersey Knit
Product Gender
Unisex
Printable Color
Full Color
Production Method
Printed and Machine Cut
Department
Baby + Kids
Apparel + Accessories
Base Color
Black
Design Color
Multicolored
Pattern
Multiple Patterns Available
Design Audience
Everyone
Design Gender
Gender Neutral
Personalization Style
Design Your Own