If you require assistance with our website, designing a product, or placing an order, you can contact us directly at 281-816-3285 (Monday to Friday 9am to 4pm Central Time)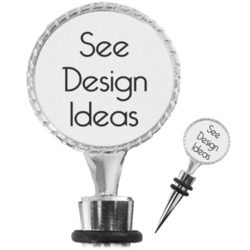 Custom Geometric Pattern Wine Bottle Stopper
Product Features:
Customizable: Personalize one of our 55+ starting designs, or design your own.
Durable & Stylish: Zinc ring with a bright chrome finish offers a heavy-duty and elegant wine bottle stopper.
Airtight Seal: Equipped with two silicone rings to preserve wine freshness and prevent oxidation.
Personalized Design: Double-sided customization in the middle of the ring for a unique, personal touch.
Easy to Clean: Hand wash with warm water and soap, then air dry for simple and convenient care.
About the Wine Bottle Stopper
For wine connoisseurs, enthusiasts, and even occasional wine drinkers, bottle stoppers are an essential part of their bar-ware accessories. Our wine bottle stoppers both preserve and dress an open wine bottle. Give these personalized wine stoppers as heartfelt, yet useful, gifts for your next housewarming or wedding party!
The top part of your bottle stopper is comprised of a zinc ring that displays your customization(s) in its middle, on both sides. The ring is heavy duty, with a bright chrome finish. The body of the wine stoppers have two silicone rings to provide an airtight seal. These wine bottle stoppers measure at 1.625" L x 0.8125" W x 4.625" H; your custom wine stopper is meant to fit into most standard-sized wine bottles.
To clean your wine cork, we advise that you wash them by hand, using warm water and detergent. Allow them to air dry afterwards.
Care Instructions:
Wash by hand with warm water and soap
Allow to air dry
Product Specifications
| | |
| --- | --- |
| Product ID | 186785 |
| SKU | cp-wn-bttl-stppr+965833 |
| Brand | YouCustomizeIt |
| Product Type | Bottle Stoppers |
| Print Style | Double-Sided |
| Product Dimensions | 1.625" x 0.8125" x 4.625" |
| Material | Metal |
| Product Gender | Unisex |
| Printable Color | Full Color |
| Production Method | Sublimation |
| Department | Bar + Wine |
| Design Color | Multicolored |
| Pattern | Multiple Patterns Available |
| Design Audience | Everyone |
| Design Gender | Gender Neutral |
| Personalization Style | Design Your Own |