If you require assistance with our website, designing a product, or placing an order, you can contact us directly at 281-816-3285 (Monday to Friday 9am to 4pm Central Time)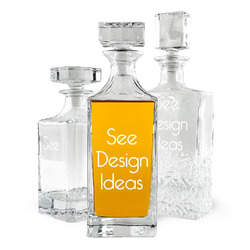 Custom Whiskey Decanter

-

Laser Engraved
Product Features:
Customizable: Personalize one of our 205+ starting designs, or design your own.
Varied Sizes: Available in three sizes and styles - 26oz square, 26oz rectangle, 30oz square.
Secure Top: Comes with a fitted top, maintaining the quality of your spirits and preventing spills.
Quality Material: Made from high-quality glass for a superior finish and lasting durability.
Care Instructions: Hand wash only with mild detergent for preserving the quality and design.
Customizable Design Templates
About the Whiskey Decanter - Laser Engraved
Bring your home bar to the next level with your own customized whiskey decanter. These are sure to impress your guests and add that special touch to your bar area.
Height
Width
Depth
Stopper Shape
Glass Design
Customization Area
26oz Square
8.75in
3.5in
3.5in
Flat Square Stopper
with Floral Design
Smooth Glass
2.5in x 4in
26oz Rectangle
12in
4.5in
2.5in
Upright Square
Stopper
Smooth Upper Glass
with Crystal Leaf Cut
Design on Lower Section
3.5in x 3in
30oz Square
10.75in
3.5in
3.5in
Flat Square Stopper
with Floral Design
Smooth Glass
2.5in x 5.5in
These decanters carry a heavy weight and the high quality glass shows your spirits in the light to really set off your personal bar area. Add additional elements to the decanter to further age your whiskey or to enhance the natural flavors.
Chose from our design library or design your own, your design will be expertly engraved on your decanter. When it comes time to clean the decanter hand wash for best results.
Pair these with a set of personalized whiskey glasses and have a full set to enjoy your whiskey in your own home.
Care Instructions:
Hand wash only as needed. Mild detergent soap only such as Dawn dish soap. Do not use abrasive cleaner as it may scratch the outside of the glass decanter.
Product Specifications
Product ID
578791
SKU
cp-whsky-dcntr+965833
Brand
YouCustomizeIt
Product Type
Liquor Decanters
Style

(Varies By Option)

26 oz (Square)
26 oz (Rectangle)
30 oz (Square)
Print Style
Single-Sided
Product Dimensions

(Varies By Option)

26 oz. Square (3.5" x 3.5" x 8.75")
26 oz. Rectangle (4.5" x 2.5" x 12.25")
30 oz. Square (3.5" x 3.5" x 10.75")
Volume Capacity

(Varies By Option)

30 oz.
26 oz.
Material
Glass
Product Gender
Masculine
Printable Color
Pre-Defined Color
Production Method
Laser Engraved
Department
Bar + Wine
Base Color
Clear
Design Color
Multicolored
Pattern
Multiple Patterns Available
Design Audience
Everyone
Design Gender
Gender Neutral
Personalization Style
Design Your Own