If you require assistance with our website, designing a product, or placing an order, you can contact us directly at 281-816-3285 (Monday to Friday 9am to 4pm Central Time)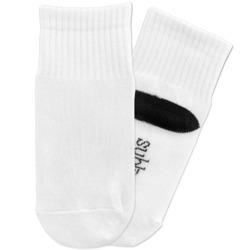 Custom Toddler Ankle Socks
Product Features:
Customizable: Personalize one of our 525+ starting designs, or design your own.
High-quality Material: Made of comfy, durable blend of polyester and spandex.
Perfect Fit: Designed for toddlers, these socks fit sizes ranging from about 6-10.
Secure Design: Features a ribbed top for a snug fit that stays in place during playtime.
Stylish Detail: Each sock features a distinctive black heel for an added touch of style.
Customizable Design Templates
About the Toddler Ankle Socks
Every little baby and toddler has the cutest little clothes and the cutest little shoes. So why not get them the cutest little socks! They will love a pair of personalized socks with their favorite animal or color.
These crew socks are a great find, made of polyester and spandex. They are quite comfy! They are even USA made. They fit a toddler size ranging from about 6-10. They have a black heel as well as a logo on the bottom. They have a nice ribbed top to ensure that their sock stays on their little foot.
Start looking through the design center to get started! Pick a cute pattern and even add a graphic to go on top!
Product Specifications
Product ID
287410
SKU
cp-sck-tdlr+965833
Brand
YouCustomizeIt
Product Type
Socks
Print Style
Wrap Around
Product Dimensions
Approx. 6.5" x 2.75"
Apparel Size
One Size
Material
Fabric
Fabric Blend
100% Polyester
Fabric Texture
Loose Knit
Product Gender
Unisex
Printable Color
Full Color
Production Method
Sublimation
Department
Baby + Kids
Apparel + Accessories
Design Color
Multicolored
Pattern
Multiple Patterns Available
Design Audience
Everyone
Design Gender
Gender Neutral
Personalization Style
Design Your Own