If you require assistance with our website, designing a product, or placing an order, you can contact us directly at 281-816-3285 (Monday to Friday 9am to 4pm Central Time)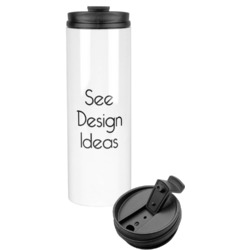 Custom Stainless Steel Skinny Tumbler
Product Features:
Customizable: Personalize one of our 525+ starting designs, or design your own.
Quality Material: Manufactured from high-quality stainless steel for durability and repeated use.
Chic Design: Offers a sleek, slim cylinder shape for easy carrying and storage.
Strong Insulation: Features double-wall insulation to maintain your drink's temperature.
Travel-Friendly Features: Comes with a screw lid and flip-top for spill-proof convenience.
Customizable Design Templates
About the Stainless Steel Skinny Tumbler
Sip your favorite drink on the go with your own custom stainless steel tumbler! Our slim cylinder shape is perfect for holding your drink in hand, in your purse, or in your backpack! This sleek and modern tumbler is a perfect gift for coffee and tea lovers keeping their drinks just the right temperature throughout the day! We offer two sizes, a 16 oz. or 20 oz., to personalize. Browse and customize or design or create your own with our online design studio!
Our stainless steel travel tumblers are screwed onto the tumbler top to ensure spill-proof security. The lids have a flip-top piece opening to pour your drink or sip through. With its double-wall insulation, the steel tumbler keeps your drink temperature constant through most of the day. The stainless steel quality allows for easy cleaning, so you can use your custom tumbler as many times as you need!
Product Specifications
Product ID
476270
SKU
cp-ss-skny-tmblrs+965833
Brand
YouCustomizeIt
Product Type
Double Wall Tumblers
Travel Mug Features
Dishwasher Safe
Cup Holder Compatible
Leak Proof
Insulated
Print Style
Wrap Around
Product Dimensions

(Varies By Option)

16 oz. Tumbler (Approx. 2.75" x 2.75" x 7.75")
20 oz. Tumbler (Approx. 2.75" x 2.75" x 10")
Volume Capacity

(Varies By Option)

20 oz.
16 oz.
Material
Metal
Stainless Steel
Product Gender
Unisex
Printable Color
Full Color
Production Method
Sublimation
Department
Drinkware
Design Color
Multicolored
Pattern
Multiple Patterns Available
Design Audience
Everyone
Design Gender
Gender Neutral
Personalization Style
Design Your Own