If you require assistance with our website, designing a product, or placing an order, you can contact us directly at 281-816-3285 (Monday to Friday 9am to 4pm Central Time)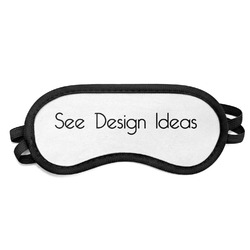 Product Features:
Customizable: Personalize one of our 525+ starting designs, or design your own.
Comfortable Design: Features a super soft fleece back for a snug and comfortable fit.
Two Size Options: Comes in two sizes, Small (Approx. 2.5" x 7") and Large (Approx. 3.5" x 9").
Elastic Band: Includes a stretchy black elastic band, providing a one-size-fits-most solution.
Silky Smooth Texture: Front side offers a silky smooth texture, ensuring comfortable wear.
Customizable Design Templates
About the Sleeping Eye Mask
Sleeping will never be more comfortable or dark than with this comfy eye mask. Unlike other eye masks, this one is actually comfortable! Who knew?!
This eye mask has a super soft fleece on the back so that your face will feel snug. The front is personalized by you! There is a black elastic band that goes behind your head. The band is stretchy enough to be a one size fits most. The eye mask comes in 2 sizes: small for regular adult sizes and large for a larger area coverage. The black lining and elastic give it a nice finished look. You will never sleep or nap more comfortably than with this eye mask. These are great for napping when traveling or just at home!
Personalize the front of your mask with something that looks like you. You can even put a fun saying or graphic to make those around you laugh! Choose from our plethora of graphics and backgrounds to create the perfect design.
Looking for a great night's sleep? Check out our customized bedding! We have great comforters as well as duvet covers. Even pick up a body pillow case if you like!
Product Specifications
Product ID
496495
SKU
cp-sleeping-eye-masks+965833
Brand
YouCustomizeIt
Product Type
Eye Masks
Print Style
Single-Sided
Product Dimensions

(Varies By Option)

Large (Approx. 3.5" x 9")
Small (Approx. 2.5" x 7")
Material
Fabric
Neoprene
Fabric Blend
90% Polyester, 10% Spandex
Fabric Texture
Silky Smooth
Product Gender
Feminine
Printable Color
Full Color
Production Method
Sublimation
Department
Luggage + Bags
Design Color
Multicolored
Pattern
Multiple Patterns Available
Design Audience
Everyone
Design Gender
Gender Neutral
Personalization Style
Design Your Own