If you require assistance with our website, designing a product, or placing an order, you can contact us directly at 281-816-3285 (Monday to Friday 9am to 4pm Central Time)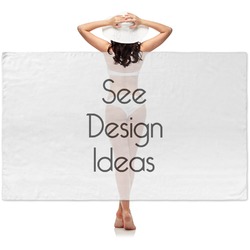 Custom Flower Sheer Sarong
Product Features:
Customizable: Personalize one of our 70+ starting designs, or design your own.
Versatile Style: 42" x 70" size allows for various ways to wear as a cover-up or shawl.
Sheer Material: Composed of soft, sheer polyester, perfect as a swimsuit cover-up.
Comfortable Fabric: Soft polyester material ensures comfort when worn against the skin.
Fabric Care: Suitable for gentle wash and air drying to maintain its sheer texture.
About the Sheer Sarong
This sarong is a sheer material that can be made fabulous in so many ways. Tie it up over your whole swim suit as a cover-up or tie it around your waist to make a cute cover-up skirt. To top that, show off your style by decorating it with a personalized design!
This sarong is 42" x 70" of personalized beauty. It is made of a soft polyester for comfort when against your skin. The material is sheer, so it serves well as a swimsuit cover-up or a shawl. There are so many uses for this wonderful product that you will be sure to find when it is in your hands.
Go into the design center to get started designing your newest accessory. Choose from our thousands of backgrounds to put on your sarong. Choose something daring or subtle. Whatever you do, make it you.
Product Specifications
| | |
| --- | --- |
| Product ID | 186807 |
| SKU | cp-shr-scrf+965833 |
| Brand | YouCustomizeIt |
| Product Type | Sheer Sarongs |
| Print Style | Single-Sided |
| Product Dimensions | 42" x 70" |
| Apparel Size | One Size |
| Material | Fabric |
| Fabric Blend | 100% Polyester |
| Fabric Texture | Sheer |
| Product Gender | Feminine |
| Printable Color | Full Color |
| Production Method | Sublimation |
| Department | Apparel + Accessories |
| Design Color | Multicolored |
| Pattern | Multiple Patterns Available |
| Design Audience | Everyone |
| Design Gender | Gender Neutral |
| Personalization Style | Design Your Own |