If you require assistance with our website, designing a product, or placing an order, you can contact us directly at 281-816-3285 (Monday to Friday 9am to 4pm Central Time)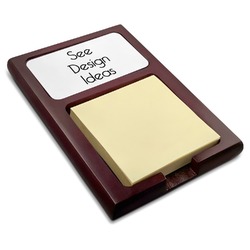 Custom Red Mahogany Sticky Note Holder
Product Features:
Customizable: Personalize one of our 525+ starting designs, or design your own.
Sophisticated Material: Crafted from fine mahogany in a rich, dark cherry color.
Perfect Fit: Measuring 4.25" x 6.25" x 0.75", designed to hold 3" x 3" sticky notes.
Practical Design: Features a velvety bottom indentation to securely hold notes.
Easy to Clean: Wipe the surface with a soft cloth to keep it looking new.
Customizable Design Templates
About the Red Mahogany Sticky Note Holder
Add a classy touch of decor to your desk with one of our sticky note holders! This sticky note dispenser will bring a wonderful hint of your creativity to the table, while still looking refined and sophisticated, and more importantly, serving a purpose.
Crafted from a fine mahogany, this post it note holder is in the shade of a dark, cherry color. The dispenser itself is about 4.25 by 6.25 by 0.75 inches. You can place your 3 by 3 inch sticky notes in the indentation below the nameplate. We print your customization onto the nameplate that rests above the velvety indentation.
To clean your new post it note holder, wipe its surface with a soft cloth.
Care Instructions:
Wipe the surface with a soft cloth to clean
Create a set of desk supplies by purchasing one of our business card holders and name plate, also made from a high-quality mahogany! For more desk or office related decor, head over to our Office and Desk category! You'll find a whole assortment of products that will bring a unique charm to your workspace!
Product Specifications
| | |
| --- | --- |
| Product ID | 284710 |
| SKU | cp-rd-mhgny-sty-nt-hldr+965833 |
| Brand | YouCustomizeIt |
| Product Type | Sticky Note Holders |
| Print Style | Single-Sided |
| Product Dimensions | 6.25" x 4.25" x 0.75" |
| Material | Wood |
| Product Gender | Masculine |
| Printable Color | Full Color |
| Production Method | Sublimation |
| Department | Office + Desk |
| Design Color | Multicolored |
| Pattern | Multiple Patterns Available |
| Design Audience | Everyone |
| Design Gender | Gender Neutral |
| Personalization Style | Design Your Own |