If you require assistance with our website, designing a product, or placing an order, you can contact us directly at 281-816-3285 (Monday to Friday 9am to 4pm Central Time)
Custom Red Mahogany Business Card Holder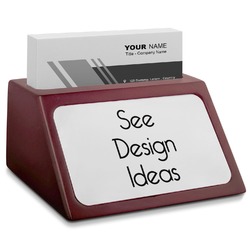 Product Features:
Customizable: Personalize one of our 520+ starting designs, or design your own.
Elegant Design: Dark cherry-red mahogany construction for a professional and stylish appearance.
Customizable Nameplate: 3.5" x 2" single-sided nameplate with full-color sublimation printing.
Spacious Slot: 0.75" wide slot comfortably accommodates around 30 business cards up to 3.5" wide.
Compact Size: 2" x 3.75" x 1.5" dimensions make it an ideal addition to any desk or workspace.
Any Design
Currently Unavailable For Sale
Customizable Design Templates
Looking for More?
Shopping for the entire office instead? If you're enjoying the high quality mahogany, we make sticky note holders and desk name plates of a similar style! We also offer a wide array of notebooks, journals, and other goods for you and your coworkers, in our Office and Desk department. Gift your whole office a series of personalized products for the next holiday or company milestone!
Product Description
Keep your business cards in an organized and tidy manner with our business card holders The key to being a skilled boss or employee lies in your keeping an atmosphere of professionalism. Youll be sure to impress your co-workers, and more importantly, your clients, with this wooden business card holder!
Your business card stand is built from a dark, cherry-red mahogany. This personalized business card holder is approximately 3 by 2.75 inches and is accompanied by a 3.5 by 2 inch name plate embedded in the slanted front. When you customize your design, it is sublimated onto this nameplate. The slot within the business card organizer is 0.75 inches and can comfortably accommodate around 30 business cards that are slimmer than 3.5 inches wide.
When cleaning your business card holder for your desk, simply dust or wipe down with a lightly dampened cloth.
Care Instructions:
Wipe down surface with a soft cloth
Product Specifications
Product ID
284705
SKU
cp-rd-mhgny-bs-crd-hldr+965833
Brand
YouCustomizeIt
Product Type
Business Card Stands
Print Style
Single-Sided
Product Dimensions
2" x 3.75" x 1.5"
Material
Wood
Metal
Product Gender
Masculine
Printable Color
Full Color
Production Method
Sublimation
Department
Office + Desk
Design Color
Multicolored
Pattern
Multiple Patterns Available
Design Audience
Everyone
Design Gender
Gender Neutral
Personalization Style
Design Your Own
5 Stars

GREAT !!!!
This is a perfect addition to my office. Quality product !
Reviewer:

Louis

|

Verified Customer
Date: Mar 26, 2021
Product: Nurse Red Mahogany Business Card Holder (Personalized)
5 Stars

Smart Looking!
I purchased the business card holder for my office. Very nicely done! Completely professional! I've already been referring friends and coworkers. GREAT JOB!
Reviewer:

Michael Parrish

|

Verified Customer
Date: Apr 16, 2019
Product: Design Your Own Red Mahogany Business Card Holder
5 Stars

Beautiful card holder!
Received product in a timely manner and was exactly what I expected. Great colors and sturdy construction. Thank you!
Reviewer:

Bonnie Littleton

|

Verified Customer
Date: Jan 27, 2019
Product: Pawprints & Bones Red Mahogany Business Card Holder (Personalized)
See All 3 Reviews