If you require assistance with our website, designing a product, or placing an order, you can contact us directly at 281-816-3285 (Monday to Friday 9am to 4pm Central Time)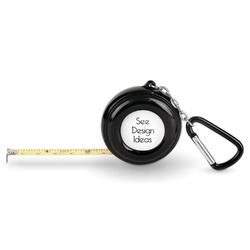 Custom Fine Art Pocket Tape Measure

-

6 Ft w/ Carabiner Clip
Product Features:
Customizable: Personalize one of our 20 starting designs, or design your own.
Compact Design: 2" x 2" x 0.5" size, perfect for fitting in your pocket or hanging off your belt loop.
Durable Materials: Sturdy black plastic shell with metal chain and 1.5" carabiner clip.
6-Foot Measuring Tape: Convenient yellow tape measure that reaches up to 6 feet long for versatile use.
Carabiner Clip: Easily attach the tape measure to belt loops or bags with the included 1.5" carabiner clip.
About the Pocket Tape Measure - 6 Ft w/ Carabiner Clip
What's more nifty than a small measuring tape with a carabinner?! This is the perfect thing to take with you on the go or keep with you when you're working on a project.
This great little measuring tape is the perfect size to fit in your pocket or hang off your belt loop. The shell of the tape measure is a classic black and is made of a sturdy plastic. Attached is a small metal chain that links to the 1.5" carabiner. Easily pull the little metal tab to pull out the yellow measuring tape that reaches up to 6 feet long. It really is the perfect thing for small projects, no matter what you're into!
Now for personalizing! You get to personalize both sides of your tape measure. Have fun picking a cute pattern, font, or graphic! Make your personality shine through this fun tool.
Product Specifications
Product ID
284702
SKU
cp-tp-msr-6ft+965833
Brand
YouCustomizeIt
Product Type
Tape Measures
Print Style
Double-Sided
Product Dimensions
2" x 2" x 0.5"
Measurement Accuracy
+/- 1/16 in.
Material
Plastic
Metal
Product Gender
Unisex
Printable Color
Full Color
Production Method
Sublimation
Department
Hardware + Tools
Design Color
Multicolored
Pattern
Multiple Patterns Available
Design Audience
Everyone
Design Gender
Gender Neutral
Personalization Style
Design Your Own
5 Stars

Personalized tape measure

Excellent service, expediting a rush order. They still proof-edited my work and made helpful changes.
Reviewer:

Frank
Date: Mar 21, 2022
Product: Design Your Own Pocket Tape Measure - 6 Ft w/ Carabiner Clip
5 Stars

Tape measure
The product was easy to order and customize. Could not find this exact product anywhere else. The turn around time from ordering to receiving the product was very quick.
Reviewer:

connie

|

Verified Customer
Date: Mar 03, 2021
Product: Abstract Foliage Pocket Tape Measure - 6 Ft w/ Carabiner Clip (Personalized)
See All 2 Reviews