Design Your Own Personalized Lamp Shade
$29.95+
In Stock
Ships in 3-5 Business Days
(1 Reviews)
Slip UNO fitter
Lightly textured material
White shantung trim
Available in Multiple Sizes
Get Inspiration From Our Designs
Reviews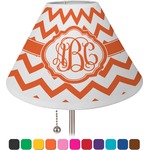 Looks Great!
I was contacted very next day to go over order then a proof of the shade was emailed to me later that day for final approval. I immediately responded and had it within days. Lady was super sweet, lampshade is better than I could have imagined. Exactly like the examples show you. Quality is remarkable. I couldn't have had any better than it is. Looks great in my teenage daughters room.
Reviewer: Monica Singletary
Product: Chevron Lamp Shade (Personalized)
See All 1 Reviews
Product Description
Liven up your lighting with our personalized lamp shades. They can be the focal point of the room or an accent that compliments your lamp bases. With all the patterns and designs to choose from they will look great with any decor for kids to adults.
If you personalize with a name it will look nice in bedrooms or on nightstands, while a family name or initial will look nice in common areas in the house.
The lamp shades are lightly textured and the ribbon trim with satin finish gives a polished look. The medium size will illuminate a smaller area and the larger size emits more light and works well as a reading lamp.