If you require assistance with our website, designing a product, or placing an order, you can contact us directly at 281-816-3285 (Monday to Friday 9am to 4pm Central Time)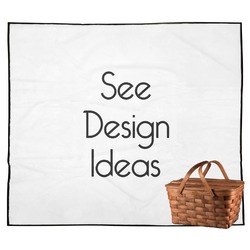 Custom Summer Outdoor Picnic Blanket
Product Features:
Customizable: Personalize one of our 25+ starting designs, or design your own.
Premium Material: Crafted from 100% Polyester fleece offering super soft comfort.
Water Repellent: The bottom features water-repellent material to keep you dry outdoors.
Large Size: Measures approximately 50" x 59", providing ample space for picnics.
Quality Finish: Blanket is edged with a nicely finished ribbon for added durability.
About the Outdoor Picnic Blanket
When spring and summer roll around you always just want to be outside! What better way to soak up the sun and celebrate the summer holidays than with a picnic! This picnic blanket will be the perfect way to bask in the glory of summer!
This picnic blanket is perfect for hanging out with your friends at the park or anywhere outside. The top of the blanket is made of a super soft microfiber fleece. The bottom of the blanket is made of a black material similar to a rain jacket and is water repellent as well. This will keep any wet spots on the ground from soaking through your picnic blanket. No one likes a wet blanket. The blanket measures at approximately 50" x 59" and has a nicely finished ribbon edge.
Create the perfect design for your picnic blanket. Create a special design for your family reunion, a fun summer design, or just a design that is specific to your personality. Choose from thousands of patterns and backgrounds to start yourself off right.
Product Specifications
Product ID
289331
SKU
cp-outdr-blnkt+965833
Brand
YouCustomizeIt
Product Type
Outdoor Blankets
Print Style
Single-Sided
Product Dimensions
59" x 50"
Material
Fabric
Fabric Blend
100% Polyester
Fabric Texture
Fleece
Product Gender
Unisex
Printable Color
Full Color
Production Method
Sublimation
Department
Home + Garden
Sporting Goods
Shape
Rectangle
Design Color
Multicolored
Pattern
Multiple Patterns Available
Design Audience
Everyone
Design Gender
Gender Neutral
Personalization Style
Design Your Own