If you require assistance with our website, designing a product, or placing an order, you can contact us directly at 281-816-3285 (Monday to Friday 9am to 4pm Central Time)
Custom Leatherette Oval Name Badge with Magnet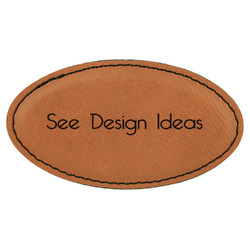 Product Features:
Customizable: Personalize one of our 85+ starting designs, or design your own.
Leatherette Material: Made from cognac-brown faux leather for a polished, professional look.
Oval Shape: Features an oval shape with fine black stitching along the edges for added elegance.
Magnetic Strip: Comes with a removable magnetic strip for easy attachment to clothing.
Easy Maintenance: Wipe down with a damp cloth and light soap, then air dry for simple cleaning.
Customizable Design Templates
Product Description
Scrap your plain, worn name badge for one of our leatherette ones! If you're striving for a polished, professional look, our leatherette is the ideal way to do so. Place the names of your coworkers and your company's logo on these magnetic name tags to create that professional appeal!
Made from a cognac-brown leatherette into an oval shape, these custom name badges measure at around 3.25" x 1.75". To add the suave appearance of this custom badge, a fine black stitching lines the edges or the badge itself. Your customized design is laser-engraved onto the surface of the leatherette. Accompanying your purchase is a removable magnet strip that can be used to secure the engraved name tag to any shirt, dress, or jacket.
When cleaning your magnetic badge, wipe down with a dampened cloth and some light soap. Allow to air dry.
Care Instructions:
Wipe down with dampened cloth and light soap
Allow to air dry
Product Specifications
| | |
| --- | --- |
| Product ID | 405716 |
| SKU | cp-lthrette-bdge-ovl+965833 |
| Brand | YouCustomizeIt |
| Product Type | Name Badges |
| Print Style | Single-Sided |
| Product Dimensions | Approx. 3.25" x 1.75" |
| Material | Leather (Faux) |
| Product Gender | Masculine |
| Printable Color | Pre-Defined Color |
| Production Method | Laser Engraved |
| Department | Office + Desk |
| Base Color | Rawhide |
| Design Color | Multicolored |
| Pattern | Multiple Patterns Available |
| Design Audience | Everyone |
| Design Gender | Gender Neutral |
| Personalization Style | Design Your Own |
5 Stars

Distinctive Name Nadge
All the other realtors have sparkling badges or metal. What a great way to be more distinctive, authentic. It is just the way I thought it would be. Delivered early. Feels great. The magnet is strong. I'll order another one soon.
Reviewer:

Judy Kay

|

Verified Customer
Date: Nov 05, 2022
Product: Design Your Own Leatherette Oval Name Badge with Magnet
See All 1 Review