If you require assistance with our website, designing a product, or placing an order, you can contact us directly at 281-816-3285 (Monday to Friday 9am to 4pm Central Time)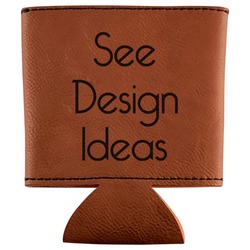 Custom Leatherette Can Sleeve
Product Features:
Customizable: Personalize one of our 205+ starting designs, or design your own.
Premium Leatherette Material: Cognac-brown faux leather with sturdy black stitching for a sophisticated look.
Slim Padding: Interior padding ensures a better fit for most canned drinks.
Perfect Size: Measures 4" x 4.5", suitable for most standard canned beverages.
Easy to Clean: Gently rub off dirt with a soft cloth, mild soap, and warm water; dry promptly afterwards.
Print Style
Customizable Design Templates
About the Leatherette Can Sleeve
Mark your freshly opened drink as yours with one of our personalized can sleeve! These can sleeves have a polished, sophisticated appearance, while still presenting your individual style!
This can sleeve is made from a cognac-brown leatherette and stitched with a sturdy, black thread. A slim padding lines the inside of your can sleeve to allow for a better fit once your drink is inserted. The sleeve itself measures at 4 by 4.5 inches, allowing this custom can sleeve to accommodate most canned drinks. Your personalized design can be engraved on the front and back, or solely the front. When laser-engraved, your design appears as a black coloration which contrasts the leatherette nicely.
If your beer can sleeve dirties, we recommend using mild soap and warm water on a soft cloth. Gently rub off any dirt and dry promptly afterwards.
Care Instructions:
Gently rub off dirt with a soft cloth, mild soap, and warm water
Dry promptly afterwards
Build a collection of fine, leatherette products by also customizing a bottle opener, coaster set, and a wine bag made from leatherette! These products, and more, can be found in the Bar and Wine category! For even more drink-related options, check out our Kitchen category!
Product Specifications
Product ID
288066
SKU
cp-lthrette-cn-slv+965833
Brand
YouCustomizeIt
Product Type
Drinkware Sleeves
Print Style

(Varies By Option)

Single-Sided
Double-Sided
Product Dimensions
4" x 4.5" x 0.5"
Material
Leather (Faux)
Product Gender
Masculine
Printable Color
Pre-Defined Color
Production Method
Laser Engraved
Department
Bar + Wine
Party + Celebration Supplies
Base Color
Brown
Design Color
Multicolored
Pattern
Multiple Patterns Available
Design Audience
Everyone
Design Gender
Gender Neutral
Personalization Style
Design Your Own
5 Stars

Thank you!
I just got the sleeves, and they are beautiful, even better than I expected! And I'll have them in time for our beer/wine event on Saturday. Thank you for your outstanding customer service and quality products. Have a lovely day! Cheers, Karina
Reviewer:

Karina Young

|

Submitted via Email
Date: Aug 04, 2021
Product: Design Your Own Leatherette Can Sleeve - Single-Sided
5 Stars

Really love the product
We bought this for a gift and WE are very happy with the way it turned out. Can't wait to see the birthday boys reaction since we had to mail it because it came a couple days late.
Reviewer:

Phyllis ann Nush

|

Verified Customer
Date: Aug 04, 2021
Product: Multiline Text Leatherette Can Sleeve (Personalized)
5 Stars

Great Gift sure to please!
This gift will be used till ot falls apart! I know my brother who I bought for, is going to be his Favorite and most useful gift of all! Thanks for providing this option for consumers!
Reviewer:

Gina

|

Verified Customer
Date: Nov 04, 2019
Product: Design Your Own Leatherette Can Sleeve
See All 3 Reviews