If you require assistance with our website, designing a product, or placing an order, you can contact us directly at 281-816-3285 (Monday to Friday 9am to 4pm Central Time)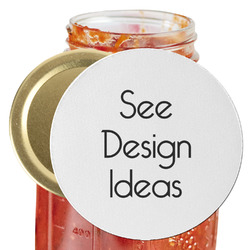 Product Features:
Customizable: Personalize one of our 525+ starting designs, or design your own.
Effortless Opening: Tackle stubborn jars easily with this functional kitchen tool.
Durable Material: Made from rubber and polyester, ensuring a long-lasting product.
Easy to Clean: Simply wipe down with a damp cloth and gentle detergent for maintenance.
Versatile Size: 5" diameter fits most jars with a diameter smaller than 4".
Customizable Design Templates
About the Jar Opener
Ever struggle with a tough jar that refuses to open? Our jar openers guarantee that you won't ever face another stubborn jar, while adding a subtle touch of personality and décor to your kitchen shelf or counter top.
Made from rubber and a polyester top, these personalized jar openers serve as a functional addition to your kitchen counter-top. With its light weight and thin structure, these manual jar openers are straightforward and easy to use. The tool has a 5" diameter, and can therefore fit over most jars that have a diameter smaller than 4".
If your rubber jar opener is in need of a clean, we advise that you wipe down its surface with a damp rag and some gentle detergent. Let the tool air dry if necessary.
Care Instructions:
Wipe down with a damp cloth and some gentle detergent
Product Specifications
Product ID
234289
SKU
cp-jr-opnr+965833
Brand
YouCustomizeIt
Product Type
Jar Openers
Print Style
Single-Sided
Product Dimensions
5" x 5"
Material
Rubber
Fabric
Fabric Blend
90% Polyester, 10% Spandex
Fabric Texture
Jersey Knit
Product Gender
Unisex
Printable Color
Full Color
Production Method
Sublimation
Department
Home + Garden
Design Color
Multicolored
Pattern
Multiple Patterns Available
Design Audience
Everyone
Design Gender
Gender Neutral
Personalization Style
Design Your Own