If you require assistance with our website, designing a product, or placing an order, you can contact us directly at 281-816-3285 (Monday to Friday 9am to 4pm Central Time)
Custom Electric Outlet Plate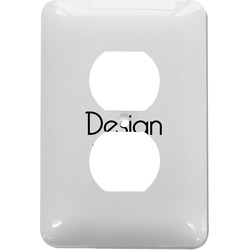 Product Features:
Customizable: Personalize one of our 520+ starting designs, or design your own.
Chic Design: Full color design on metal outlet plate for unique touch.
Sturdy Material: Made of durable metal with a satin finish for longevity.
Standard Size: Approximately 3.5" x 5", fitting most electric outlets.
Easy Maintenance: Simply unscrew, wipe with warm water and detergent, and dry.
Customizable Design Templates
Looking for More?
Intrigued by the idea of custom outlet plates? We even offer custom light switch plates to pair with your new wall outlet covers! Both of these can be personalized to match your wallpaper or your room's decor. If you intend to redecorate an entire room, we have products for that too! Try customizing some wallpaper, wall decor, curtains, and more!
If you like the idea of blending your wall plates in with the surrounding decor you should also check out our coordinating light switch wall plates.
Product Description
With our electric outlet plates, you won't have to worry about your white or creme outlet plates looking out of place in your beautifully themed room. These decorative wall plates make it possible for you to revamp your room down to the most minute, but still significant, details. Customize a few for your bedroom, child's nursery, living room, and more!
These outlet covers are made from a sturdy metal and display your design across its face. A satin finish coats the design to give it a finished look. The center of this outlet plate cover has a small hole to accommodate a screw upon installation. With your purchase of this decorative outlet cover, we include one screw. This outlet plate is of a standard size, and measures at approximately 3.5 by 5 inches.
To clean this custom outlet cover, unscrew its screw and remove it from the wall. Wipe down its surface with warm water and detergent. Ensure that it has dried properly before reattaching it to your wall.
Care Instructions:
Unscrew plate and remove it from wall
Wipe down with warm water and detergent
Dry properly before rescrewing
Product Specifications
| | |
| --- | --- |
| Product ID | 186655 |
| SKU | mi-electric-switch-cover+965833 |
| Brand | YouCustomizeIt |
| Product Type | Electric Outlet Plates |
| Print Style | Single-Sided |
| Product Dimensions | Approx. 3.5" x 5" |
| Material | Metal |
| Product Gender | Unisex |
| Printable Color | Full Color |
| Production Method | Sublimation |
| Department | Home + Garden |
| Design Color | Multicolored |
| Pattern | Multiple Patterns Available |
| Design Audience | Everyone |
| Design Gender | Gender Neutral |
| Personalization Style | Design Your Own |